Stripping at Malaysian Grand Prix: Nine Australians arrested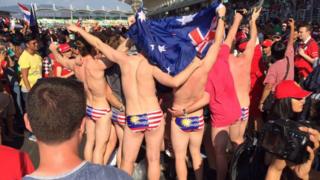 Nine Australian tourists have been arrested after stripping to their underwear during Sunday's Malaysian Grand Prix.
The men, who were sporting underpants bearing the Malaysian flag, are being investigated for "intentional insult" and a possible breach of the peace.
Photographs of the men parading the country's national colours were widely shared on social media.
The incident has been criticised in the majority Muslim country.
Twitter users have accused the men, aged between 25 and 29, of causing offence and insulting Malaysia.
"A bit of respect for the country you're visiting?" writes @johnqgoh, with others referring to their actions as "embarrassingly stupid".
The Australian men were detained at 17:00 on Sunday and will be held for four days at a facility outside the capital, Kuala Lumpur, Sepang police chief Abdul Aziz Ali told local media.
They are being investigated for public indecency and disrespecting the national flag.
Malaysia has strict rules on any display of public indecency and foreign offenders are typically issued a fine before being deported.
Last year a British woman was jailed for removing her clothes and taking photographs at the peak of Mount Kinabalu in Malaysia.
Eleanor Hawkins, 23, admitted public indecency along with three other Western tourists and was imprisoned for three days.