Japan holds Nigerian asylum seeker in solitary confinement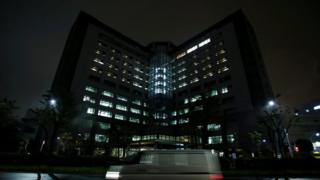 A Nigerian asylum seeker says she is being held in solitary confinement in Tokyo after her claim was denied.
Elizabeth Aruoriwo Obueza, 48, was detained two weeks ago after the government dismissed her appeal to stay in Japan for protection against religious persecution.
But a rights group says she is being held on her own because she is an activist for asylum seekers.
Japan rejected 99% of asylum requests last year, accepting just 27 refugees.
The Nigerian, an evangelical Christian, says she fled from Nigeria to Japan in 1991 to escape female genital mutilation and applied for asylum in 2011.
Her arrest comes as the justice ministry is trying to reduce the number of foreigners living in Japan without visas, currently about 60,000.
But her lawyer told the BBC she was being particularly targeted by the authorities because she petitioned the Japanese government for better conditions for asylum seekers.
How bad is solitary confinement?
What's it like to spend decades in solitary confinement?
How solitary broke a man named Badness
Ms Obueza says she has spent 22 hours a day alone in a small cell since being detained.
"Elizabeth is held in solitary because she's an activist and immigration officials don't want her causing trouble," said Mitsuru Miyasako, head of the Provisional Release Association in Japan, a group representing refugees and immigrants.
"Locking someone up alone in a tiny room is to ruin them psychologically."
The Japanese authorities did not comment.
Ms Obueza had campaigned for asylum seekers and people on "provisional release", a status that allows migrants to live outside a detention facility but barring them from working or travelling freely.
People on provisional release are being specifically targeted by the authorities, activists and lawyers say.
She has also spent the last 10 years helping asylum seekers navigate the immigration system and has previously been detained for 10 months.
"I want to help people. Give me the right to help people - don't put me in here," Ms Obueza told Reuters news agency.
The crackdown on asylum seekers comes as Japan faces a impending labour shortage due to its the ageing population.