Hurricane Matthew: Haiti lives still at risk, aid groups say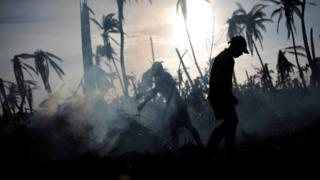 Three weeks after Hurricane Matthew ravaged the island nation of Haiti, aid agencies say the situation is dire and many lives are still at risk.
The World Food Programme says more than 800,000 people urgently need food and thousands without homes are sheltering in schools.
A cholera outbreak remains a threat - more than 3,400 suspected cases have been reported since the storm.
At least 1,000 people died this month when the category 4 storm hit Haiti.
Sean Casey, emergency response team leader for the International Medical Corps, says much of the country's agricultural region in the south was destroyed by the storm, causing a large food crisis.
"We don't have the luxury of focusing on one thing right now," he said.
"We have to look at everything - ongoing displacement, access to safe water in the short term, access to health care, and then longer term recovery."
Aid efforts have been hampered by destruction left by the hurricane which washed out roads and bridges, cutting off entire towns from assistance. Seasonal rain storms have led to additional flooding, further frustrating relief efforts.
Mr Casey said some of his teams were forced to hike to villages on foot or use canoes to deliver aid to areas that were cut off. "Just last weekend there was serious flooding in Les Cayes - the water was waist deep."
Cholera concerns
Flooding and poor sanitation have contributed to a spike in cholera cases reported after the storm.
Mr Casey said displacement, a lack of shelter, and a lack of hygiene have also exacerbated the situation.
He recently visited a school building which housed some 700 people. The only toilets available were four pit latrines which were completely full. "This creates a really high risk environment," he said.
The Haitian Ministry of Health will start a cholera vaccination campaign on 8 November that aims to immunise 820,000 people in one week in the two southern states of Sud and Grand'Anse.
The Pan American Health Organisation (PAHO), which is helping the health ministry to deliver the vaccination, says less than 30% of the health care facilities in these southern states are functioning.
The cholera vaccination is only 65-85% effective, but PAHO spokesman Daniel Epstein says the campaign will save lives.
"Cholera is easy to spread anyway - the vaccination is not the panacea. It is meant to save lives in the short term but its not a replacement for water and sanitation efforts."
"The key to cholera control is safe water and sanitation but Haiti is still working on that."
People who receive the vaccination will also be given rehydration salts and chlorine tablets which purify water.
Cholera killed around 10,000 people in Haiti after the devastating 2010 earthquake, when UN peacekeepers introduced it to the country by emptying toilet waste into the Meille River, a major water source.
Despite the country's challenges, Sean Casey says coordination between aid groups has improved since the 2010 earthquake.
"There is much stronger leadership from the government of Haiti overall and the government ministries are leading the [NGO] coordination meetings."
The UN has appealed for $120m to fund continuing aid efforts on the ground.