Pakistan court stays execution of mentally-ill Imdad Ali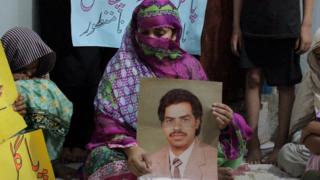 Pakistan's Supreme Court has stayed the execution of a mentally-ill man who was due to be hanged this week for the murder of a cleric 15 years ago.
Imdad Ali, 50, has schizophrenia. He has spent 14 years on death row.
The Supreme Court recently ruled that schizophrenia was "not a permanent mental disorder", meaning he could therefore be executed.
The court will now consider reprieve petitions from a civil society group and police in Punjab province.
The execution was stayed for two weeks, Ali's lawyer Iqbal Galani said.
"We have a strong case and hope for justice," he said.
Ali's wife, Safia Bano, said the judges' decision had given his family "a ray of hope".
The United Nations has said it will be a violation of international law to execute Imdad Ali, who was declared clinically insane after killing a cleric in 2001.
His lawyers say he does not understand crime or punishment, and his doctors say he is delusional, hears voices in his head, and suffers from a persecution complex.
The American Psychological Association defines schizophrenia as "a serious mental illness characterised by incoherent or illogical thoughts, bizarre behaviour and speech, and delusions or hallucinations, such as hearing voices".
Pakistan lifted a moratorium on executions after a Taliban attack on a Peshawar school that killed 150 people in December 2014.