S Korea scandal: Former aide to president detained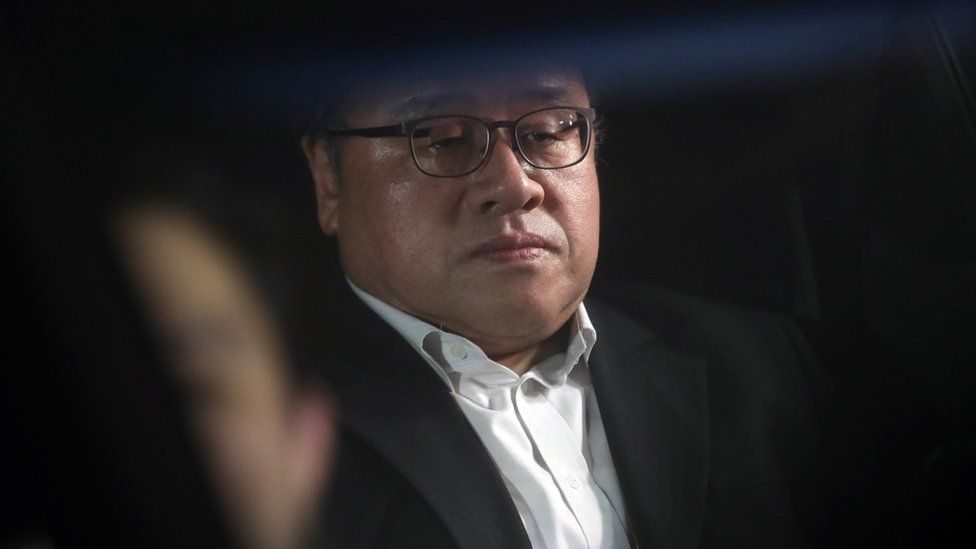 A former aide to South Korea's President Park Geun-hye has been detained by prosecutors, say officials.
An Chong-bum is the second aide to be detained in a scandal which is threatening the president's position.
He and Ms Park's long-time friend and mentor Choi Soon-sil are suspected of using their presidential connections to persuade corporations to donate funds to foundations they were involved with.
Mr An had told reporters on Wednesday he would take responsibility for his actions, the Yonhap news agency reports, without giving further details.
He has been placed under emergency detention to prevent the possibility of him tampering with evidence, prosecutors said. They have 48 hours to formally request an arrest warrant in court.
On Wednesday South Korean prosecutors requested an arrest warrant for Ms Choi. Seoul Central District Court is due to review the request on Thursday, a court spokesman said.
Several banks have also been raided in connection with the controversy, which has prompted widespread anger.
What's the scandal about?
At the heart of the scandal is the influence that Choi Soon-sil, the daughter of a shadowy religious cult leader, may have had on President Park.
What is Ms Choi accused of?
The allegation is that Ms Choi was involved in high-level decision making and handled classified documents without security clearance. She is also accused of embezzlement - allegations she has denied.
The true extent of Ms Choi's influence is unclear. The women have been friends since the 1970s when Ms Choi's father, Choi Tae-min, befriended Ms Park's family. He eventually became Ms Park's mentor.
What has the president said?
She is embroiled in a battle for her political life as a result of the scandal. She has apologised to the public for causing national concern.
Ms Park responded to the crisis on Wednesday by reshuffling her government, appointing a new finance minister and prime minister - a largely symbolic role in South Korea.
Surveys suggest her approval rating is about 10%, with about half of respondents saying she should resign or face impeachment.