Afghanistan: Fatal attack on German consulate in Mazar-e-Sharif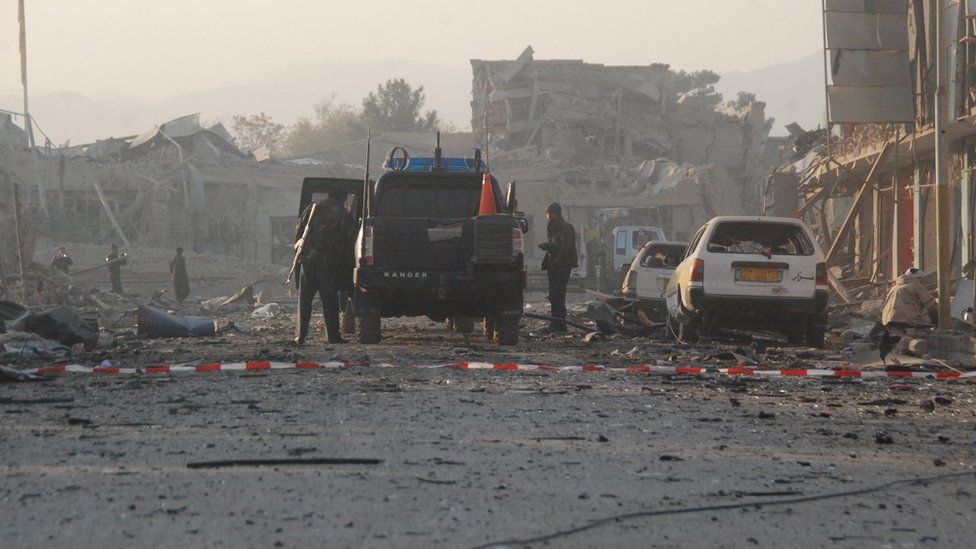 A suicide bomber has rammed a truck into a German consulate in Afghanistan, killing at least six civilians and wounding 120, officials said.
Gunman attacked the building after the blast, in the city of Mazar-e-Sharif, battling with German and Afghan forces.
The Taliban said it carried out the attack in retaliation for air strikes last week in Kunduz province.
Local police said at least one suspect had been arrested in connection with the bombing.
A Nato spokesman said there was "massive damage" to the consulate after the truck smashed into a perimeter wall.
The blast left a large crater in the ground and overturned nearby cars. Pictures showed rows of windows blown out and buildings mangled by the force.
Officials are also investigating whether a second car bomb was involved, the Nato spokesman added.
Taliban spokesman Zabihullah Mujahid said that the fighters had been sent "with a mission to destroy the German consulate general and kill whoever they found there," Reuters reported.
All German consulate staff were "safe and uninjured," the German foreign ministry said, adding that troops were on site preparing to evacuate staff.
Ajmal Jan, a local shopkeeper, said the force of the blast had blown his windows out.
"The explosion was very strong, all the glass in my shop broke and I was injured," he told Reuters news agency. "My shop was covered by dust and smoke, it was a frightening situation."
Germany leads the Nato diplomatic mission in northern Afghanistan and has nearly 1,000 troops stationed in the country.
The mission operates from a walled compound in the centre of Mazar-e-Sharif, the capital of Balkh province.
President Ashraf Ghani has condemned the attack.
Nato said it was investigating the air strikes in Kunduz, cited by the Taliban. Afghan troops reportedly called in air support after being surrounded by Taliban militants.
Some 30 civilians, including women and children, were killed in the incident, local officials said.