Tokyo sees first November snow in 54 years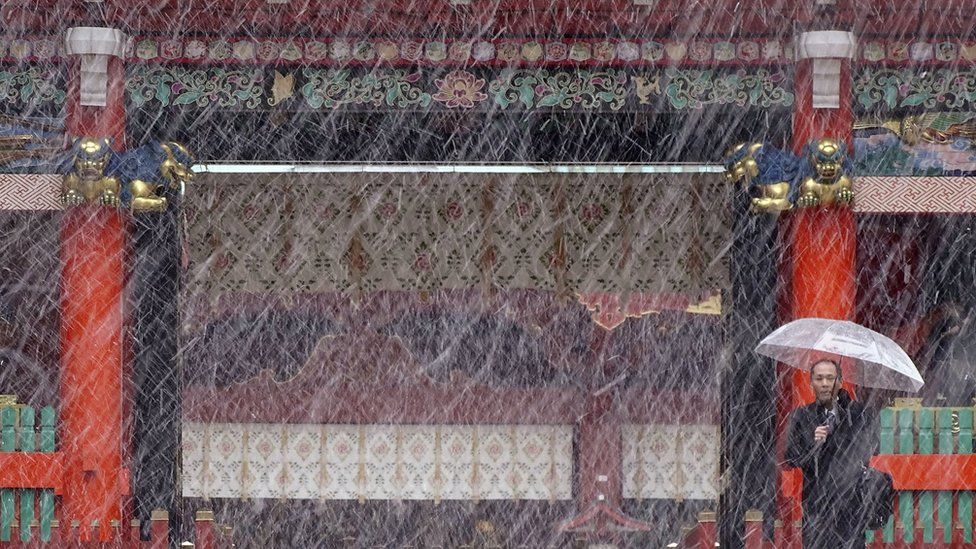 Tokyo is experiencing its first November snowfall in 54 years.
Residents of the Japanese capital were taken by surprise, as the temperatures around this time of the year usually range from 10C to 17C.
The snow, caused by an unusual cold front over the city, caused slight delays on public transport.
The first snowfall - which is called "hatsuyuki" - arrived 40 days earlier than average, Japan's Kyodo news agency reports.
Tokyo last saw November snow in 1962, though in that year it did not accumulate on the ground.
The current snowfall marks the first time fallen snow has been seen on the ground in Tokyo in November since records started to be taken in 1875.
The Japan Meteorological Agency (JMA) has warned of possible icy roads, snow on electric wires and trees, and the collapse of plastic greenhouses, according to the Japan Times.
The last time it snowed in Tokyo in November, in 1962...
Tokyo had no skyscrapers - the first modern skyscraper, the Kasumigaseki Building, only went up in 1968.
The Tokyo Olympics was still two years away - the seminal event kicked off an era of rapid modernisation and growth.
So was the Shinkansen - the high-speed bullet train made its maiden trip in 1964 from Tokyo to Osaka.
Many people still used traditional squat toilets - Japan may be famous for its high-tech toilets, but the Japanese only took to Western-style plumbing later in the 1960s.