Singer Richard Marx 'restrains unruly man' on Korean Air flight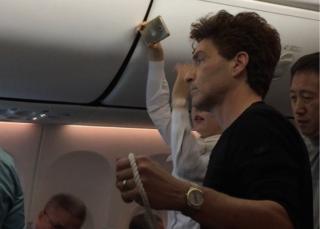 American singer Richard Marx has said he had to restrain a fellow passenger on a Korean Air flight, after the man allegedly attacked others onboard.
The incident happened as Marx and his wife, Daisy Fuentes, were travelling from Hanoi to Seoul on Tuesday.
The man was arrested upon landing and South Korean police said he was drunk, reported Yonhap news agency.
Marx called the incident "chaotic and dangerous" and alleged the crew were "completely ill trained".
Korean Air confirmed an unruly passenger was subdued and that he had been turned over to police, but did not respond to Marx's specific allegations about their crew.
Marx, known for 1980s hit Right Here Waiting, and Fuentes, a former MTV VJ, shared pictures of the incident on their social media accounts.
Fuentes said on Instagram that the man was sitting in the next row from them when he "got crazy and started attacking the flight attendants and passengers", including "pushing the female staff and pulling them by the hair".
She said the staff appeared ill-prepared, and subduing him took four hours.
"They never fully got control of him. They didn't know how to use the taser and they didn't know how to secure the rope around him (he got loose from their rope restraints three times)," she said.
Marx, who was in Hanoi to perform at a concert, said on his Facebook page that one crew member and two passengers were injured.
"The all female crew was clueless and not trained as to how to restrain this psycho and he was only initially subdued when I and a couple other male passengers intervened... Korean Air should be sanctioned for not knowing how to handle a situation like this without passenger interference."
He added that police boarded the plane upon landing in Seoul. The singer later said he and Fuentes eventually reached home in Los Angeles "safe and sound".
Yonhap said the 34-year-old passenger had consumed two and a half shots of liquor and became intoxicated during the flight.
It quoted police as saying they released the man because he was too drunk to be investigated, and that they would summon him for questioning later.
The incident prompted widespread praise on social media for Marx's actions, with many responding to him with references to his hit songs.