Afghanistan Taliban: Eight dead in attack on MP's house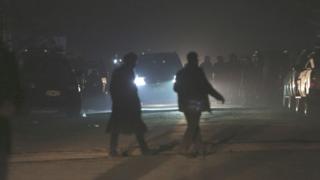 Taliban gunmen in Afghanistan have attacked the Kabul home of a member of parliament, killing eight people.
Six others were wounded, including the MP, Mir Wali, and his wife, police say. Two of their grandchildren were among the dead.
Security forces killed the three gunmen and freed 18 hostages after a 10-hour siege early on Thursday.
The Taliban said they carried out the attack. Security in Kabul has sharply deteriorated throughout 2016.
Police say the attackers stormed the compound of the MP for Helmand, armed with guns and hand grenades.
The assault began on Wednesday evening, with at least one of the attackers reported by Tolo News to have detonated explosives inside.
Mr Wali is reported to have escaped from the attackers through a neighbouring house.
The Taliban in a statement said suicide bombers attacked MP's home because it was hosting an "important gathering of security officials".
Suicide bombers and gunmen have carried out many attacks in recent months in Helmand, Kabul and other areas.
The Taliban have made sweeping gains in Helmand - a major opium-producing region - since international coalition combat forces withdrew from Afghanistan in 2014.