Snow-anime pop up around Japan after winter snowfalls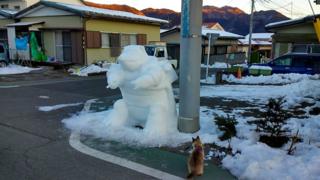 Extraordinary snow creations of famous anime characters have been appearing all over Japan after recent snowfalls.
Less than a month before Sapporo's famous snow festival, amateur snow sculptors have been posting pictures of their creations on social media.
Fans of the Pokemon GO mobile game will recognise this, an icy Mega Kamex (Mega Blastoise) created by Kazu Sae in Fujiyoshida, near Mount Fuji.
He says he kept it maintained after work for several days.
Instagram user Abemi comments that her creation looks like it is about to enter the home, which is perhaps a little unnerving when the character is Kaonashi (No-Face), a ghost that eats people in Studio Ghibli's animated film Spirited Away after being invited indoors.
Haunting or not, No-Face seems to have been a popular choice. This one was made by acupuncturist Tsubasa Shintani outside his workplace in Komono in Mie prefecture, central Japan.
Much more cheery and equally popular was Totoro, from another Studio Ghibli classic, My Neighbour Totoro. This one created by the husband of Instagram user xiakia, who likes to come up with a new snowman idea every year.
Sadly the sunshine is more likely to carry him off to another place than the umbrella he flies with in the film.
Masayuki Kamachi in Furano in Hokkaido, Japan's chilly northern island, had the bright idea to have his Totoro wait at a bus stop, as the character does in the film.
No word on whether a snowy "cat bus" came to pick him up though.
Yurika Minami took advantage of the extreme cold in Sapporo in Japan's northern island - it was -20C, she says - to create a giant snow superhero to tower over her child.
In this case, Anpanman, who fights the evil Baikinman (germ man), while having a bean jam-filled bun (anpan) for a head.
In the Attack on Titan manga series, man-eating giants called Titans stalk the earth, and what remains of humankind is cowering behind vast walls in a dystopian future.
Fortunately any terror induced by this Titan will only last until the next warm day. But till then, this ice monster by Instagram user beta58a330 might give you a bit of a fright if you spot it through the winter gloom.
Instagram's cobrakasano in Nagoya created his Titan in just two hours, after a rare snowfall hit the city, about 250km (155 miles) south of Tokyo.