South Korea ministry apologises over artists' blacklist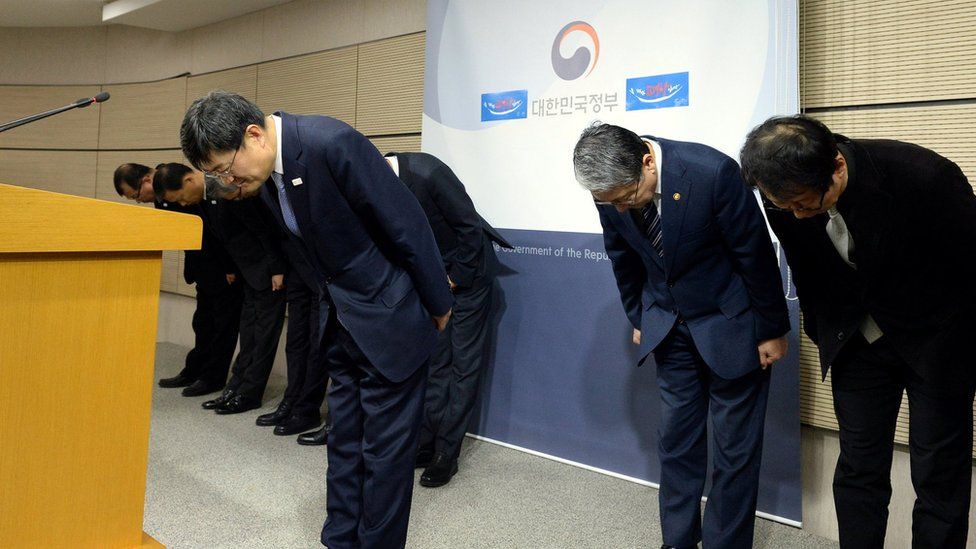 South Korea's culture ministry has apologised for blacklisting of artists who were critical of the government of embattled President Park Geun-hye.
The ministry called the situation "distressing" and promised to co-operate fully with any investigation.
The move follows the arrest on Saturday of Culture Minister Cho Yoon-sun.
Prosecutors say Ms Cho drew up a list of thousands of artists and cultural figures to be excluded from government arts subsidies on political grounds.
Ms Cho is the first sitting cabinet minister to be arrested in South Korea. She and President Park's former chief of staff, Kim Ki-choon, face charges of abuse of power and perjury.
The blacklist has stoked anger in South Korea, reviving memories of censorship and oppression under Ms Park's father, dictator Park Chung-hee.
The list is reported to contain almost 10,000 names, including Han Kang, winner of the 2016 Man Booker International Prize, and director Park Chan-wook, winner of the Grand Prix at the Cannes film festival in 2004.
"We feel terrible and shameful that the Ministry of Culture, Sports and Tourism caused any problems in the fairness of the government's support of the culture-arts scene over the list of artists excluded from public support," said Vice Culture Minister Song Soo-keun, now acting as culture minister.
"[The ministry] is supposed to defend the freedom and creativity of artistic expression," he said.
"We should have thoroughly apprehended this problem beforehand, unearthed the truth and worked out preventive measures. But we didn't... There is no excuse," he said.
Ms Cho resigned shortly after her arrest. Her predecessor, Kim Jong-deok, is also in custody over his alleged involvement in managing the list, Yonhap news agency reports.
The move comes as yet another setback for the president, who has been impeached over claims she colluded with a close friend, Choi Soon-sil, to use their relationship to secure millions of dollars from major companies.
The money was allegedly paid into Ms Choi's non-profit foundations in exchange for favourable government treatment.
Ms Park denies any wrongdoing, both over the collusion claims and the blacklist.
Ms Choi is currently on trial for fraud.