Duterte backtracks on gay marriage in Philippines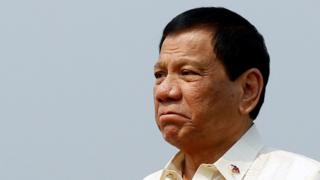 Philippine President Rodrigo Duterte has said he opposes gay marriage, after previously declaring he would consider legalising it.
Mr Duterte clarified that he had "nothing against gays", saying several of his relatives were homosexual.
The controversial politician had previously appeared supportive of LGBTQ rights, saying in 2015 that same-sex marriage was "good".
But he is otherwise known for his conservative views especially on crime.
He has waged a much-criticised war on drug users and dealers leading to thousands of extra-judicial killings.
His latest remarks were made on Sunday night to Filipino expatriates in the Burmese capital of Nay Pyi Taw while on an official trip to Myanmar. A transcript of the speech was only given to journalists on Monday.
In a meandering speech addressing criticism of his now-suspended war on drugs, Mr Duterte accused the West of imposing its values on the Philippines, then referred to a recent Time magazine story on the transgender community in the US.
"There is no gender because you can be a he or she... That's their culture. It does not apply to us. We are Catholics and there is the Civil Code, which says that you can only marry a woman for me... a woman to marry a man.
"That's our law so why would you accept that gender?" he said.
"Wherever God placed you, just remain there. Do not mix it up… You erase the great divide between a woman and a man," he added.
'Everyone deserves to be happy'
Before becoming president in June 2016, Mr Duterte was the mayor of Davao city, which introduced anti-discrimination laws for sex, gender and sexual orientation during his administration.
In 2015, Mr Duterte appeared on a national talk show where he said same-sex marriage was "good... everyone deserves to be happy".
The following year, while campaigning for the presidency, he said he would "consider" legalising same-sex marriage if there was such a proposal.
The Philippines has 80 million Catholics and remains a deeply religious society.
Mr Duterte has taken issue with the church previously, once calling the Pope a "son of a whore".
Despite his many controversial comments he still remains highly popular in the Philippines.