South Korea election: Voters choose new president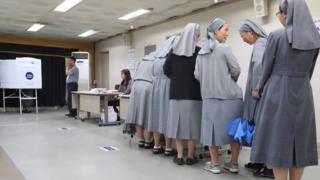 South Koreans are voting in a presidential election, called early after a huge corruption scandal brought down their former leader.
A liberal, Moon Jae-in, is the strong favourite with centrist Ahn Cheol-soo his nearest challenger.
If Mr Moon wins, the South will likely change course on North Korea, with the candidate wanting to increase contact with the rogue regime.
But corruption and the economy are greater concerns for domestic voters.
A record turnout is predicted, with numbers boosted by younger voters, as South Koreans choose from 13 candidates.
Polls close at 20:00 local time (11:00 GMT), with the winner expected to be announced soon after. The new leader is likely to be sworn in on Wednesday.
Will ties with the North be affected?
Heightened tensions on the Korean peninsula in recent weeks have made the perennial worries over the South's volatile neighbour a key issue.
Mr Moon, of the Democratic Party of Korea, has advocated greater dialogue with the North while maintaining pressure and sanctions.
Both he and Mr Ahn have urged US President Donald Trump to cool his rhetoric towards the North after his administration suggested it might take military action over Pyongyang's weapons programme.
However, Hong Joon-pyo of the conservative governing Liberty Korea Party attacked Mr Moon's approach, saying on Thursday morning that the election was a "war of regime choices".
State media in North Korea advocated a return to an earlier era of communication and co-operation known as the Sunshine policy, seen as an endorsement of Mr Moon who was part of the previous South Korean government which promoted that policy.
What are the other issues?
All the candidates are promising to protect the fragile recovery in South Korea's economy - the fourth largest in Asia - and to bring down youth unemployment, which remains stubbornly high.
There have been vows to reform the family-run conglomerates - chaebols - which dominate the domestic economy.
Whoever wins will have to deal with China, which retaliated economically over the deployment of a US missile defence system in the South.
Candidates have been promising a break from the past as symbolised by the deeply unpopular impeached former leader, Park Geun-hye.
A 22-year-old voter said: "I voted with the hope of not electing the same kind of president again in future."
---
Low security, high turnout: analysis by Stephen Evans, BBC News, Seoul
South Korea has been energised by a string of events from the confrontation between Washington and Pyongyang over North Korean nuclear weapons to the ousting of the previous president over allegations of corruption.
In Western democracies, there have been hints of disillusion with politics and politicians but that has not been on display here.
Candidates have vowed to clean up corruption - but so has every other winner of a presidential election in South Korea, only to get snared in the very corruption they denounced en route to power.
This election has been refreshing in that security at rallies has been lower-key than at those in the United States, in particular, and in some countries in Europe.
At times, the front-runner, Moon Jae-in, was in danger of being pulled off the stage by people tugging his hand.
---
Where's Park today?
In March, Ms Park became the first South Korean president to be removed from power by impeachment.
She is spending election day in jail and South Korean media report she will not be casting a vote.
The 65-year-old is accused of allowing a close friend to extort money from companies.
She denies wrongdoing - although she has repeatedly apologised - and is standing trial on charges of bribery and abuse of power.
Huge crowds had protested against her, fuelled by anger over inequality and the perceived privilege of South Korea's elite.