Sewol ferry phone data recovered: 'Don't die, stay alive'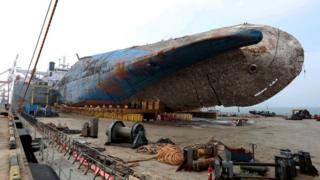 Data has been restored from at least two phones found on the Sewol ferry, which sank in 2014 off South Korea, giving insights into the victims' last moments.
"Don't die, stay alive," was among the frantic messages received before the vessel went down, killing 304 people.
Most of those on board were teenagers on a school trip.
Investigators hope GPS records on the phones will help pinpoint the time the ship sank.
One phone was last checked at 9:29am, and stopped working 32 minutes later.
The other stopped operating at 9:47 on the same day, 16th April, Yonhap news agency reported.
The names of the owners of the phones have not been released, but the investigating committee released some of the messages, which paint a picture of the anxious hours as those on board waited to be rescued, and friends and family desperately sought news.
"Please make sure you keep in touch with me," read a message from one of the phones. "Coast guards just sent a patrol boat," said another.
"Helicopter rescued you?", asked another.
The devices were among about 80 retrieved from the wrecked ship, which was salvaged in March and transported to the port of Mokpo.
Relatives of the victims pushed for further work to locate the remains of nine people which had not been found at that point.
Two sets of remains have since been identified, and on Thursday a third set were identified as Cho Eun-Hwa, a 17-year-old girl from Danwon High School.
Six people still unaccounted for.
The disaster was blamed on a combination of illegal redesigns, cargo overloading, the inexperience of the crew member steering the vessel, and lax government regulations.
Many of the victims obeyed erroneous crew instructions to remain in their cabins as the ship sank.
The ship's captain was later convicted of murder.