US returns 'looted' royal seals to South Korea after 60 years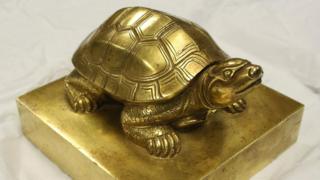 The US has returned two ancient royal seals to South Korea, looted from the country more than 60 years ago.
The Chosun dynasty artefacts, dating from the 16th and 17th Centuries, are believed to be worth a combined $1.5m (£1.15m).
The royal seals, depicting turtles, were presented to President Moon Jae-in during his visit to Washington on Friday.
The US has returned some 8,000 items to more than 30 countries since 2007.
The older of the South Korean artefacts, a gilt-bronze seal made in 1547 to honour Queen Munjeong, the third wife of the Chosun Dynasty's eleventh king, is thought to have been stolen during the Korean War.
The other - a jade block made for King Hyeonjong in 1651 - is believed to have been taken during the Japanese occupation of Korea, between 1910 and 1945.
Investigations began after Queen Munjeong's seal was discovered in a Los Angeles museum in 2013. King Hyeonjong's seal was found in a private collection.
Both will arrive in South Korea on Sunday with President Moon.
They will go on public display from August.