Farhad Mazhar: Bangladeshi human rights campaigner found on bus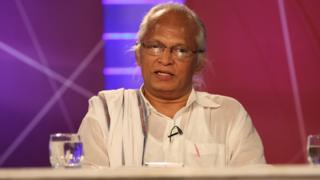 A well-known Bangladeshi human rights activist has been found on a bus after his family reported him missing.
Columnist and government critic Farhad Mazhar sparked a police hunt after leaving his Dhaka home on Monday morning.
There were reports of a ransom demand.
Police said Mr Mazhar, 69, was eventually found on a bus travelling to the capital from the south-western city of Khulna. It is unclear if he had been abducted.
Human rights groups say enforced disappearances and abductions are rising in Bangladesh.
Mr Mazhar is a supporter of the opposition Bangladesh Nationalist Party (BNP).
Party officials say many of their activists and supporters have been detained illegally since 2014.