North Korea missile: What does 'provocative' test show?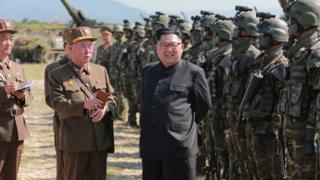 This is by some measure North Korea's most provocative missile test in a very long time, perhaps ever.
Yes, there have been North Korean flights over Japan before. But this is the first time Pyongyang has fired an overtly military missile, with a potential nuclear capability, across Japan.
Early analysis suggests it was a Hwasong-12 missile (also known as a KN-17). This rocket is a new type of intermediate-range ballistic missile (IRBM) capable of flying up to 4,000km (2,485 miles).
It was first seen in public at a huge military parade in Pyongyang in April. It was then successfully launched on a high trajectory flight into the sea off North Korea's east coast in May.
Defying threats
There are always two questions that arise when North Korea does something like this. What does it want and what can the world do to stop it?
Talk to two different people on this and you'll probably get three different answers. There is the perennial "bargaining" theory - by which North Korea does something outrageous to draw attention to itself and get its enemies, primarily America, to come to the negotiating table.
But since Kim Jong-un took over in 2012 there has not been much sign that he is interested in negotiations. Instead he appears determined to push ahead with developing a full range of nuclear missiles instead.
In this context the latest test shows a determination to push on regardless of US threats or President Donald Trump's recent assertion that his tough rhetoric on North Korea is working.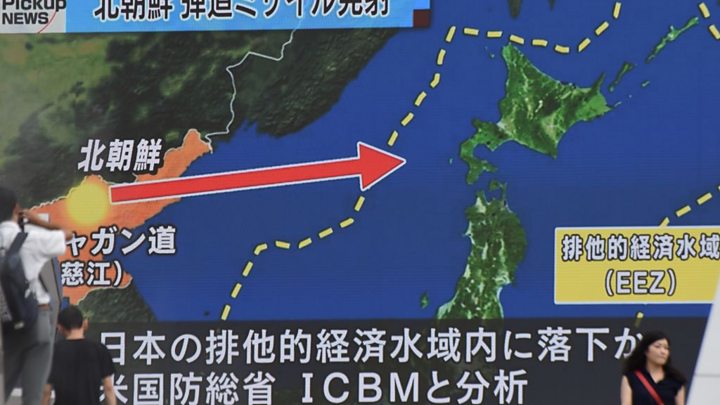 Pyongyang also needs to test its new weapons more thoroughly. The Hwasong-12 has been successfully test-fired only once before, and then on a very unusual lofted trajectory.
To prove it works reliably North Korea's missile engineers will want to fire the missile on longer, lower-altitude trajectories - just as they have done today.
Pyongyang's primary objective in gaining nuclear weapons remains regime survival. But the Kim family dynasty has also shown itself masterly at keeping its enemies off balance. Previous missile tests have successfully driven a wedge between South Korea and China.
After today's over-flight, Japan is looking nervously at Washington; what would the Trump administration have done if that missile had really been aimed at Japan?
In the end what North Korea wants is to be accepted by the United States as a legitimate nuclear weapons state. That is not going to happen, and so the world is stuck in this seemingly endless stalemate, while North Korea continues to build and test its missiles.