Myanmar Rakhine: Thousands flee to Bangladesh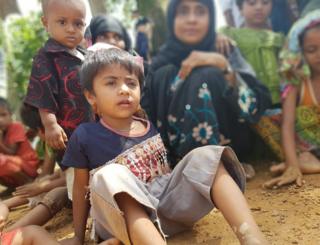 More than 18,000 Rohingya Muslims fleeing violence in Myanmar's Rakhine state have entered Bangladesh in less than a week, aid workers say.
The crisis erupted after Rohingya insurgents attacked 30 police stations last Friday, triggering a military response.
Aid workers giving emergency shelter and food say about a dozen of the new arrivals have recent bullet wounds.
Thousands more are waiting at the border, local sources say.
Many are thought to be trapped in an unoccupied zone between the countries.
At least 100 people, mostly insurgents, have been reported killed in the latest violence in Rakhine. Independent confirmation from the state is almost impossible as few journalists are given access.
What's the situation at the border?
The International Organisation for Migration said on Wednesday that about 18,500 Rohingya - mostly women and children - had crossed into Bangladesh since last Friday's attacks.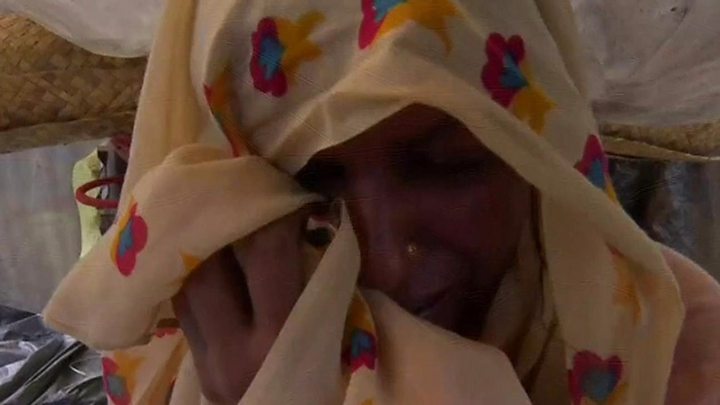 Peppi Siddiq, a spokeswoman for the IOM, told the BBC: "There are still thousands of people in no-man's land and we have no access to that area.
"Some new arrivals have clothes with them, some even have kitchen utensils, but most leave everything behind. They need immediate shelter and food assistance."
More than 100,000 Rohingya refugees have now entered Bangladesh since last October, accusing the Myanmar authorities of ethnic persecution.
The authorities in Bangladesh have been turning many Rohingyas from Myanmar back - both countries say the Rohingya are not their citizens.
"The situation is very terrifying, houses are burning, all the people ran away from their homes, parents and children were divided, some were lost, some are dead," Abdullah, a young Rohingya man who had made it to Bangladesh, told Reuters.
What is it like for the refugees?
By Mir Sabbir, BBC News, Cox's Bazar in Bangladesh
Along the main road in front of Kutupalong refugee camp, hundreds of Rohingya gather in small groups under the open sky. The vast majority are women and children.
These people crossed the border under the cover of darkness, walked a long way or took an autorickshaw if they could afford one, and reached this camp. They know if they are caught during the crossing, they will be sent back.
But even after being sent back, they just keep trying again. Some say there is nothing left for them at home. Many of them have lost their family members.
Many of the Rohingya crossing the border already have relatives in these camps. With their help, these people will probably also get some shelter here. But looking at children who are tumbling in the ground of the refugee camps - exhausted by the long journey, confused about why they had to come here and suddenly living under the open sky - it's hard not to get emotional.
Who are the militants?
A group called the Arakan Rohingya Salvation Army (Arsa) says it carried out Friday's attacks. The group first emerged in October 2016, when it carried out similar assaults on police posts, killing nine police officers.
It says its primary aim is to protect the Rohingya Muslim minority from state repression in Myanmar.
The government says Arsa is a terrorist group whose leaders have been trained abroad. Its leader is Ata Ullah, a Rohingya born in Pakistan who was raised in Saudi Arabia, according to the International Crisis Group.
But a spokesman for the group told Asia Times that it had no links to jihadi groups and that its members were young Rohingya men angered by events since communal violence in 2012.
What is life like for Rohingya?
Rakhine, the poorest region in Myanmar (also called Burma), is home to more than a million Rohingya.
They face severe restrictions inside mainly Buddhist Myanmar, where tensions with the majority population have been rumbling for years.
This is the most significant outbreak of violence in Rakhine since October 2016, when nine policemen died in similar attacks on border posts. The government said they were carried out by a previously unknown Rohingya militant group.
The attacks triggered a military crackdown that led to widespread allegations of killings, rape and torture of Rohingya, and an exodus of Rohingya into Bangladesh.
The UN is currently investigating alleged human rights abuses by the security forces, who deny wrongdoing.