Nagasaki atomic bomb survivor Sumiteru Taniguchi dies at 88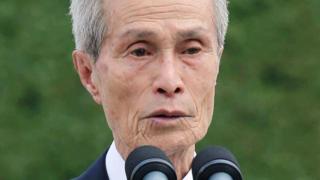 A Japanese man who survived the Nagasaki atomic bomb in August 1945 has died of cancer at the age of 88.
Sumiteru Taniguchi was working as a postman on the morning the US dropped the bomb that killed more than 70,000 people.
He became a prominent activist against nuclear weapons and was once seen as a front-runner for the Nobel Peace Prize.
At a ceremony in 2015, he described seeing a sea of fire and people's flesh burning off: "It was hell."
Mr Taniguchi, who was only 16 years old at the time, suffered horrific burns to his back and left arm which took many years to heal.
He was riding his bicycle some 1.8km (1.1 mile) from the epicentre of the explosion.
"All of a sudden, after seeing a rainbow-like light from the back, I was blown by a powerful blast and smashed to the ground," he said at a commemoration ceremony marking the 70th anniversary of the bombing.
"When I woke up, the skin of my left arm from the shoulder to the tip of my fingers was trailing like a rag. I put my hand to my back and found my clothing was gone, and there was slimy, burnt skin all over my hand.
"Bodies burned black, voices calling for help from collapsed buildings, people with flesh falling off and their guts falling out... This place became a sea of fire. It was hell."
The Nagasaki bomb, on 9 August 1945, came three days after the first bomb was dropped on Hiroshima. The city was only chosen after a cloud obscured the original target, Kokura.
The effects of the bomb were instant and devastating. It destroyed a third of the city, killing thousands instantly and condemning more to death from radiation sickness.
Days later, Japan surrendered, ending World War Two, although the necessity of the two bombs has been debated ever since.