Benazir Bhutto: Five cleared of ex-Pakistan PM murder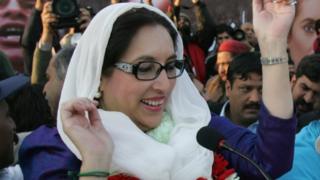 A special Pakistani court has acquitted five suspected Taliban members of conspiracy to murder former Prime Minister Benazir Bhutto in 2007.
The judges cited lack of evidence against them, but jailed two others, who were policemen, for negligence in failing to prevent the killing.
The court also declared ex-President Pervez Musharraf, who has been charged in the case, a fugitive from justice.
Ms Bhutto was killed in a gun and bomb attack after an election rally.
Mr Musharraf, an ex-army chief, has lived in self-imposed exile since last year, and faces having his property confiscated. He has not commented on the verdict and has denied having any role in the killing.
His government blamed the assassination on Pakistani Taliban chief Baitullah Mehsud, who denied any involvement. He was killed in a US drone attack in 2009.
The chairman of Ms Bhutto's Pakistan People's Party (PPP), her son Bilawal Bhutto Zardari, said on Twitter that Thursday's court ruling was "unacceptable" and that it would explore legal options.
Her daughter, Aseefa Bhuto Zardari, said: "We still await justice. Abettors punished but those truly guilty of my mothers murder roam free."
She added: "There will be no justice till Pervez Musharraf answers for his crimes."
---
Who was Benazir Bhutto?
A dominant figure in Pakistani politics, Ms Bhutto served twice as the country's prime minister, from 1988 to 1990 and from 1993 to 1996.
Young and glamorous, she successfully portrayed herself as a refreshing contrast to the male-dominated political establishment.
But after her second fall from power, she became associated in the eyes of some with corruption and bad governance.
Ms Bhutto left Pakistan in 1999, but returned in October 2007 after then-President Musharraf granted her and others an amnesty from corruption charges.
She was set to take part in an election called by Mr Musharraf for January 2008.
But her homecoming procession in Karachi was bombed by suspected militants. She survived the attack, which killed well over 150 people, but would be assassinated two months later.
---
How important was she in Pakistani politics?
M Ilyas Khan, BBC News, Islamabad
The judgment has taken nearly 10 years in coming, but we are still none the wiser about the key question - who ordered Benazir Bhutto's murder?
Many point to precedents. The 1951 murder of Pakistan's first prime minister, Liaquat Ali Khan, remains shrouded in mystery, as do the circumstances that led to the 1988 air crash that killed military ruler Zia ul-Haq.
Pakistani politics has always been seen as a nest of murky intrigue. The country's failure to set up robust democratic institutions has encouraged this.
For many, Benazir Bhutto was one of the last leaders who could entrench liberal, secular values. Since her death, the country's drift towards a more religious and less tolerant society has gathered pace while the state has become ever more militarised.
---
How was she killed?
Ms Bhutto's killing sent shockwaves across Pakistan, but the exact cause of her death is disputed. She was attacked as she was leaving a rally in Rawalpindi on 27 December 2007.
She was standing upright in her armoured vehicle, with her head exposed above the open roof escape hatch, waving to the crowd when an attacker opened fire. Seconds later, a bomb was set off at the scene which left some 20 other people dead.
A report by UK police - asked by the Pakistani government to investigate the case - concluded she was killed as a result of the explosion. The impact of the blast forced Ms Bhutto's head to collide violently against the side of the escape hatch.
The report also said the attack was the work of one person, who first fired at Ms Bhutto's vehicle and then set off a suicide bomb. The findings appeared to support the government's view that she died as a result of head injuries.
In 2010, a UN report said her death could have been prevented and that Mr Musharraf's government failed to provide enough protection - at the time his aides dismissed the report as a "pack of lies".
---
What happened after her death?
Ms Bhutto was one of the three big names in recent Pakistani politics, alongside Mr Musharraf and Nawaz Sharif. Both have fallen from grace in recent years.
Mr Musharraf, who toppled Mr Sharif in a coup in 1999 and served as president between 2001 and 2008, has faced a number of charges from the time of his rule.
They include one accusing him of treason for imposing emergency rule in 2007, another alleging the unlawful dismissal of judges in 2007, a third over a deadly raid on the Red Mosque in Islamabad in 2007 and over Ms Bhutto's killing.
After his resignation in August 2008, he left the country facing impeachment proceedings - and returned only in 2013.
But three years later, after being allowed by the Supreme Court to seek medical treatment abroad, he again went into self-imposed exile in Dubai, refusing to return to the country and face the charges against him.
Mr Sharif was ousted by the Supreme Court last month over corruption allegations. The decision came after an investigation into his family's wealth following the leak of the Panama Papers in 2016, which linked Mr Sharif's children to offshore companies and assets not shown on his family's wealth statement.