North Korea tourism: US travel ban takes effect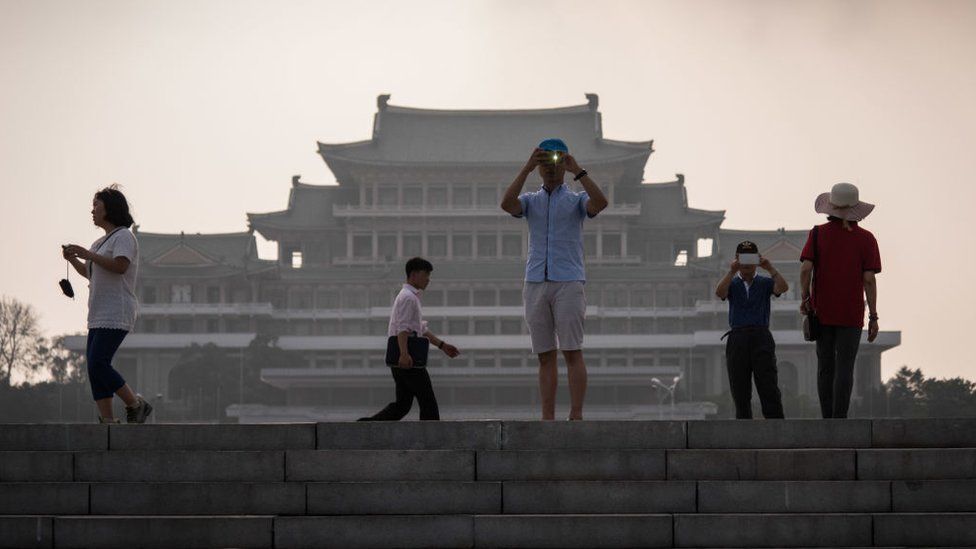 A US ban on its citizens travelling to North Korea has come into effect, at a time of heightened tensions over North Korean missile launches.
The new rule was announced after US student Otto Warmbier died after being released from prison in North Korea.
Any US citizen breaking the rules may face criminal penalties and have their passports revoked.
The State Department would only grant permission to US citizens to go to North Korea "under very limited circumstances", such as for journalism or humanitarian work.
Tour operators have suggested that up to 1,000 Americans visit North Korea every year, making up about a fifth of Western tourists. The vast majority of visitors are Chinese.
On Thursday, tour operators flew out their last American tourists from Pyongyang.
Simon Cockerell, general manager of Koryo Tours, told the BBC's Newsday programme that he expected to see fewer customers overall from now on.
"[Although] the US travel ban only affects Americans, of course it sends out a message from the US that they believe strongly that people shouldn't visit," he said.
Recent detentions of US citizens have caused "a downward push in bookings" as "that's the thing that concerns people the most, that they may personally get into trouble".
Otto Warmbier was arrested and jailed in 2016 after Pyongyang accused him of attempting to take a propaganda sign from a hotel while on holiday.
He was released to his family in the US in June, but he was in a coma and died shortly afterwards without regaining consciousness. The cause of his death remains unclear.
The State Department said at least 16 citizens had been detained in North Korea in the past decade. Three are known to be in detention.
Most of those detained have been US missionaries, journalists and professors.
The US has in the past accused North Korea of detaining its citizens to use them as pawns in negotiations over its nuclear weapons programme.
Tourism offers outside visitors a rare window into North Korean life, but tour groups are heavily regulated as well as monitored.
It is also a lucrative source of income, with one estimate that it nets authorities up to $43.6m (£34m) a year.
The State Department said in its latest statement that anyone visiting North Korea "should have no expectation of privacy", with all electronic devices subject to searches and authorities able to monitor mobile phone calls.
It also warned that it was "entirely possible" that tourism money was being used to fund North Korea's nuclear programmes.
The new rules also affect US citizens living and working in North Korea, such as aid workers and teachers.
About 60 US citizens who were employees or family members of employees at North Korea's Pyongyang University of Science and Technology have departed, according to Reuters.
The wire news agency said they were unable to receive special permission to stay, despite attempts by the university to lobby the US government for exemptions.
It quoted an unnamed source saying the school was "severely impacted" by the US travel ban as well as the "decision of some other personnel not to return."
The ban comes amid escalating tensions between the two countries and in the region.
This week North Korea reiterated its threat to launch a missile strike on the US Pacific island of Guam, and conducted what it called its "first step" of wider military operations in the Pacific by firing a missile over Japan.
US President Donald Trump had recently vowed to rain "fire and fury" on North Korea in response to its threats, and warned that the US military is "locked and loaded".