North Korea nuclear crisis: Putin calls sanctions useless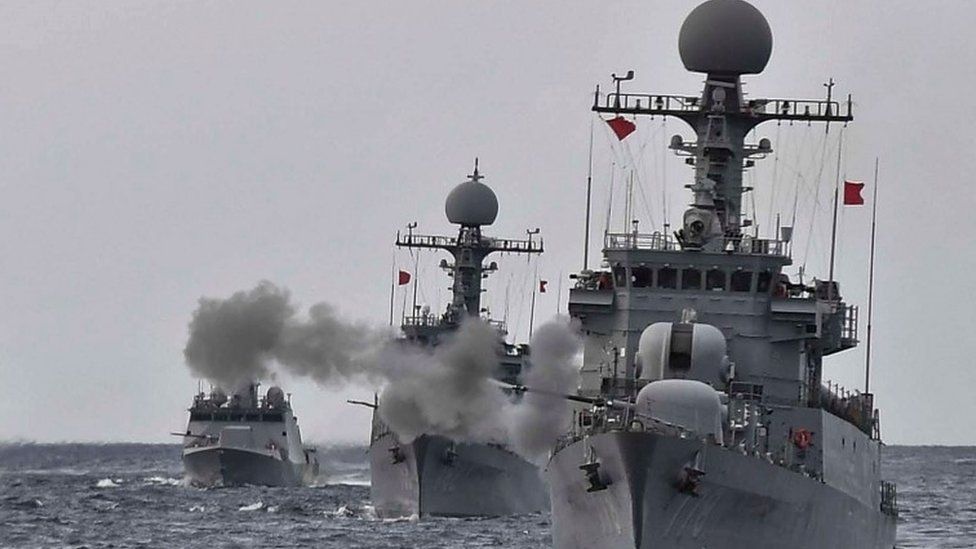 Russian President Vladimir Putin has said pursuing further sanctions against North Korea is "useless", saying "they'd rather eat grass than give up their nuclear programme".
The US said on Monday it would table a new UN resolution on tougher sanctions in the wake of the latest test of a nuclear bomb by the North on Sunday.
Mr Putin also said that the ramping up of "military hysteria" could lead to global catastrophe.
He said diplomacy was the only answer.
China, the North's main ally, has also called for a return to negotiations.
Meanwhile, North Korea's ambassador to the UN in Geneva, Han Tae-song, said his country's recent "self-defence measures" were a "gift package addressed to the US".
"The US will receive more gift packages from my country as long as it relies on reckless provocations and futile attempts to put pressure on the DPRK (Democratic People's Republic of Korea)," Reuters news agency quoted him as saying.
What did Vladimir Putin say about sanctions?
The Russian leader was speaking at the meeting of the Brics group (Brazil, Russia, India, China and South Africa) in Xiamen, China.
Although he condemned the North's test as "provocative", Mr Putin said: "Sanctions of any kind would now be useless and ineffective.
"They'd rather eat grass than abandon their [nuclear weapons] programme unless they feel secure. And what can establish security? The restoration of international law. We should promote dialogue among all interested parties."
Citing a "humanitarian aspect", Mr Putin said millions of people would suffer under tougher measures, adding: "Sanctions have been exhausted."
On Monday, at the United Nations in New York, US envoy Nikki Haley argued that only the strongest sanctions would enable the problem to be resolved through diplomacy.
German Chancellor Angela Merkel backed that stance on Tuesday, saying more sanctions were urgently needed to counter the North's "flagrant breach of international conventions".
North Korea's Han Tae-song said sanctions would never work and that his country would "never under any circumstances put its nuclear test runs on the negotiating table".
Where are we with sanctions?
Ms Haley did not spell out what additional measures might be taken, but diplomats have suggested an oil embargo would have a crippling effect.
There could also be a ban on the North's national airline, curbs on North Koreans working abroad, and asset freezes and travel bans on officials.
On Tuesday, South Korean Foreign Minister Kang Kyung-wha said after a conversation with her Chinese counterpart that she believed Beijing "could be open to more sanctions".
Mr Putin said Russia's trade with North Korea was negligible and did not violate current international sanctions.
What about the military situation?
After telling the UN Security Council that North Korean leader Kim Jong-un was "begging for war", Nikki Haley said: "War is never something the United States wants.
"We don't want it now but our country's patience is not unlimited."
In talks overnight, US President Donald Trump and South Korea's Moon Jae-in agreed in principle to scrap a warhead weight limit on the South's missiles, which are currently capped at 500kg (1,100lb), giving it a greater strike force against North Korea.
The South on Tuesday also carried out further live-fire exercises at sea, following missile drills on Monday that simulated the targeting of the Punggye-ri nuclear site where North Korea carried out its bomb test.
Seoul has said there will be more live-fire drills this month.
South Korea's Asia Business Daily quoted sources on Tuesday as saying the North had been observed moving a rocket towards its west coast.
The rocket, which appeared to be an intercontinental ballistic missile (ICBM), was moved overnight to avoid surveillance, it said.
The reports followed South Korean defence ministry statements on Monday that the North was preparing more missile tests.
But Mr Putin said that "ramping up military hysteria will lead to nothing good. It could lead to a global catastrophe. There's no other path apart from a peaceful one."
He said that given the North's range of weaponry, including long-range artillery, simply setting up missile defence systems made no sense.
China also demanded a peaceful resolution.
China's envoy to the UN, Liu Jieyi, said: "China will never allow chaos and war on the peninsula."
By Jonathan Marcus, BBC defence and diplomatic correspondent
President Putin's comments underline the closeness of the positions of Russia and China on the North Korean crisis, making a further punitive sanctions resolution from the UN Security Council unlikely.
Moscow and Beijing are pushing for a diplomatic opening but their "roadmap" has been rejected by Washington and it is far from clear what the Pyongyang regime's attitude is to potential talks.
More significantly, what would talks be about? Reducing tensions certainly, but would Pyongyang be willing to halt or give up its nuclear and missile programmes? What kind of grand bargain might be struck if any?
Mr Putin's comments also reflect Russia's own position as the target of US and EU economic sanctions, imposed in the wake of its seizure of the Crimea and its wider behaviour in eastern Ukraine.
How big was the latest test?
On Sunday, the North tested a bomb underground, which was thought to have had a power range from 50 to 120 kilotonnes. A 50kt device would be about three times the size of the bomb that destroyed Hiroshima in 1945.
It was North Korea's sixth nuclear test to date.
Kim Jong-un was pictured on camera being shown what state media said was a new type of hydrogen bomb.
South Korea said it was now presumed that the North had reduced its nuclear warhead in size to below 500kg, and would be able to attach one to an ICBM.
But analysts have said the North's claims about miniaturisation should be treated with considerable caution.
North Korea's nuclear tests