Red Cross physiotherapist killed by patient in Afghanistan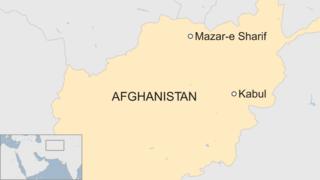 A Spanish physiotherapist working at a Red Cross hospital in northern Afghanistan has been shot dead by a patient, the group says.
Lorena Enebral Perez, 38, was killed at the aid group's rehabilitation centre in the city of Mazar-e Sharif.
She was taken to the Nato military base hospital at Camp Marmal, but died of her injuries.
Two people have been arrested, including the 21-year-old shooter who police said was a "regular patient".
Police told the BBC the men had disabilities, and had hidden guns in their plastic prosthetic legs. The motive for the attack is not yet known.
The International Committee of the Red Cross (ICRC) said Ms Perez had worked treating men, women and children with disabilities, including amputees.
"Energetic and full of laughter, Lorena was the heart of our office in Mazar. Today, our hearts are broken," said Monica Zanarelli, the ICRC's chief in Afghanistan.
"Lorena was a skilled and caring physiotherapist who assisted patients, especially children. The violent fluctuations of life seem particularly cruel today."
The aid worker's murder is the latest deadly attack on the Red Cross in northern Afghanistan, where Taliban and Islamic State militants have wreaked violence in recent years.
Most of the group's programmes in the north have been on hold since February, when six of its staff were ambushed and shot dead in Jowzjan province.
Two of their colleagues were kidnapped and only released by their captors last week.