Myanmar: Famed Burmese fortune teller ET dies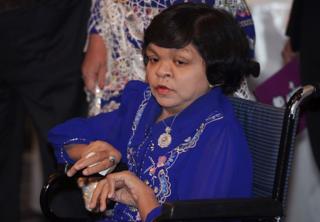 A Burmese fortune teller who advised some of South East Asia's most rich and powerful figures has died aged 58.
Family members told local media that Swe Swe Win, known as ET, died of natural causes on Sunday.
Her clients reportedly included former Burmese leader Than Shwe and former Thai PM Thaksin Shinawatra, as well as ministers and wealthy business leaders.
She could not hear or speak so communicated with her clients in writing or through assistants.
Fortune telling and astrology are still widely trusted in Myanmar (formerly known as Burma) and ET - or E Thi - was one of the country's most famous soothsayers.
She also attracted a regional following.
Her family told local news outlet Frontier Myanmar that ET, who gained her nickname from what was seen as her resemblance to the much-loved film alien, died "naturally and peacefully while she was sleeping" early on Sunday morning.
ET was regularly visited by the rich and powerful at her Yangon home during her career.
Her clients reportedly included Than Shwe, the Burmese general who made the surprise decision to move Myanmar's capital from Yangon to Nay Pyi Taw in 2005.
Many believe he ordered the upheaval on the advice of fortune tellers.
ET had also met Mr Thaksin, the telecommunications tycoon who became prime minister of Thailand. He was said to have consulted her days before he was ousted in 2006 by a military coup.
In a 2013 interview with the AFP news agency, her sister said ET had predicted Mr Thaksin's rise to power when he was still in "the telephone business".
But she added that ET's predictions were only "80%" correct.
Still, that did not deter her fans, who would pay hefty sums for consultations - some reports say the fees were upwards of $1,000 (£760) per hour.
Her consultations would include predicting the serial number of a banknote in the client's wallet or guessing the town of their birth.
Such was her fame that in 2012 a Thai production company made a television series about her life.
Her family had claimed she acquired her skills after she came down with a fever while praying at a pagoda as a small child, reported AFP.
In later years she set up a humanitarian foundation, and campaigned on behalf of the two Burmese men sentenced to death for the murder of two British backpackers on the Thai island of Koh Tao.
Even her own death - and subsequent reincarnation - was something that ET apparently foresaw, according to her sister.
The fortune teller had previously said she would die at an early age from heart failure, but was not worried as she would be "very pretty" in her next life.