Rohingya crisis: Humanitarian situation catastrophic, UN says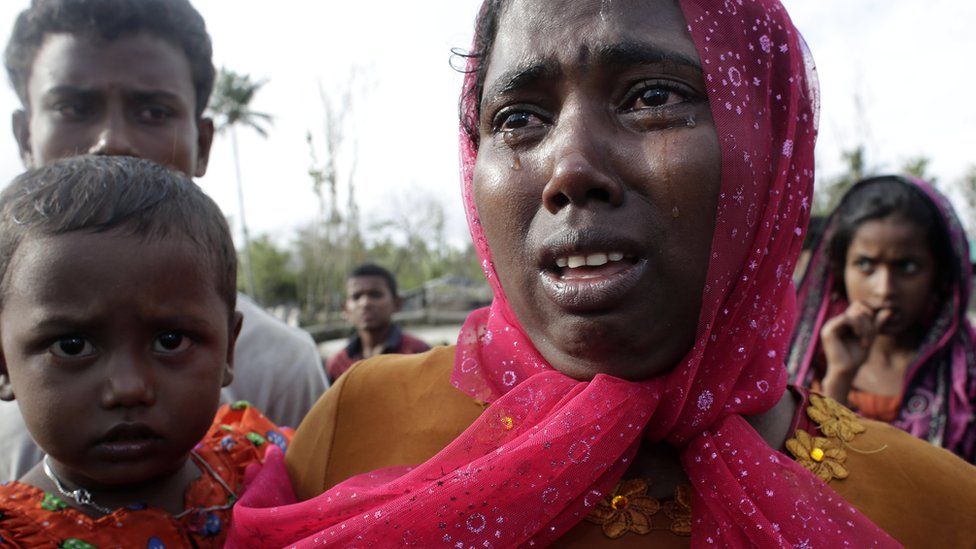 Rohingya Muslims in Myanmar are facing a catastrophic humanitarian situation, according to the UN secretary general.
Antonio Guterres said alleged attacks by security forces on Rohingya villagers were completely unacceptable. The army says it is fighting militants and denies targeting civilians.
Later the UN Security Council called for urgent steps to end the violence.
Some 379,000 Rohingyas have fled to Bangladesh since violence began last month. Whole villages have burned down.
The Rohingya, a mostly Muslim minority in the Buddhist-majority Rakhine state, have long experienced persecution in Myanmar, which says they are illegal immigrants. They have lived in Myanmar, also known as Burma, for generations but are denied citizenship.
But Myanmar officials say the country's de facto leader, Aung San Suu Kyi, will miss a key debate next week in the UN General Assembly.
She will, however, address the nation on TV on 19 September, the day the General Assembly meets. Officials said she would "speak for national reconciliation and peace".
Ms Suu Kyi has been criticised by former supporters in the West for failing to do enough to prevent the violence in Rakhine state.
Justin Rowlatt, BBC News, Cox's Bazar, Bangladesh
One of the most shocking things among all the horror here is that fact many Rohingya refugees say they have had no contact with any aid agencies or international aid bodies at all.
Many say they have had details - their names and the villages they are from - taken at the border. After that, they have been on their own.
What did the UN secretary general say?
The UN refugee agency says not enough aid is getting through to the Rohingya who have fled to Bangladesh.
Mr Guterres called on the international community to provide whatever assistance they could.
"The humanitarian situation it is catastrophic," he said.
"When we met last week there was 125,000 Rohingya refugees who had fled into Bangladesh. That number has now tripled to nearly 380,000.
"Many are staying in makeshift settlements or with those communities who are generously sharing what they have. But women and children are arriving hungry and malnourished."
Asked whether the crisis could be categorised as ethnic cleansing, Mr Guterres said: "A third of the [Rohingya] population had to flee the country - can you find a better word to describe it?"
The UN secretary general said that he had condemned attacks by the Arakan Rohingya Salvation Army (ARSA), the rebel group fighting the military.
But he added that military action should also be suspended and those who had fled be allowed the right to return home
What was the Security Council's position?
The Council issued a unanimous statement which condemned "the initial attack on security forces and subsequent violence".
It went on to express "concern about reports of excessive violence during the security operations" and call for "immediate steps to end the violence in Rakhine, de-escalate the situation, re-establish law and order, ensure the protection of civilians".
The statement also called for the refugee problem to be resolved.
Speaking to journalists, UK Ambassador Matthew Rycroft said it was significant that everyone was able to agree on a statement.
It was the first time in nine years that this had happened in relation to Myanmar, he added.
What is happening in Rakhine state?
The latest wave of Rohingya fleeing their homes began on 25 August, following attacks by Rohingya militants on police and military posts.
Those who have fled say Myanmar troops responded to the attacks with a brutal campaign of violence and village burnings aimed at driving them out.
Myanmar's envoy to the UN has blamed the Rohingya insurgents for the violence in Rakhine state and said that his country would never tolerate such atrocities.
Later government spokesman Zaw Htay said 176 Rohingya villages, more than 30% of the total in northern Rakhine, were now empty.
Though access to Rakhine state is heavily controlled, the BBC's Jonathan Head was one of a few journalists taken on a government-run tour recently and witnessed Muslim villages being burned with police doing nothing to stop it.
While the current crisis has seen nearly 400,000 Rohingya flee, the UN says Bangladesh was already hosting several hundred thousand undocumented Rohingya who had fled earlier violence.
Other Rohingya have been living in camps for displaced people within Myanmar.
On Tuesday, Myanmar denounced the suggestion by the UN High Commissioner for Human Rights, Zeid Raad al-Hussein, that its treatment of Rohingya Muslims amounted to "ethnic cleansing".
There were at least a million members of the Rohingya ethnic group living in Myanmar, most of them Muslim, though some are Hindu. They are thought to have their origins in what is now Bangladesh and the Indian state of West Bengal, but many have been present in Myanmar for centuries.
The law in Myanmar does not recognise the Rohingya ethnic minority as one of its "national races" and they are effectively denied citizenship. Human Rights Watch describes the Rohingya as one of the largest stateless populations in the world.
"Restrictions on movement and lack of access to basic health care have led to dire humanitarian conditions for those displaced by earlier waves of violence," the group says.
Bangladesh's Prime Minister Sheikh Hasina has called on Myanmar to take the Rohingya refugees back.
On Wednesday, the head of Myanmar's armed forces, Gen Min Aung Hlaing, said that the country "could not accept and recognise the term 'Rohingya' by hiding the truth" (meaning Myanmar's claim that they are illegal immigrants from Bangladesh).
"Rakhine ethnics [Buddhists] are our indigenous people who had long been living there since the time of their forefathers," he said.