Abducted Finnish aid worker freed in Afghanistan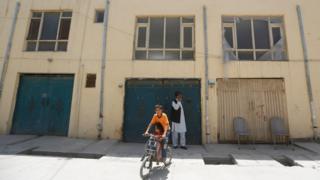 A Finnish aid worker kidnapped in Afghanistan in May has been freed, Finland's foreign ministry says.
The unnamed woman was working for a Swedish group, Operation Mercy, in the capital Kabul, when gunmen attacked the guesthouse she was staying in.
A German colleague and an Afghan guard were killed in the attack.
Finland's foreign ministry said the woman was "safe" but gave no further details of her release, asking people to respect her privacy.
Operation Mercy, an aid group that works in areas such as health and women's empowerment, said it received the news of her release "with great joy".
"The well-being of our colleague is being assessed at this time," it said in a brief statement.
No group has said it carried out the guesthouse attack.
Kidnappings, sometimes for ransom, are a serious problem in conflict-hit Afghanistan and aid workers are often targeted.
Earlier this month, two Red Cross workers kidnapped by gunmen in Jowzjan province in February as they delivered aid were freed.
No details of their captors or release have been given. Six of their colleagues died in the attack in which they were abducted.