Rohingya crisis: Satellite images of Myanmar village burning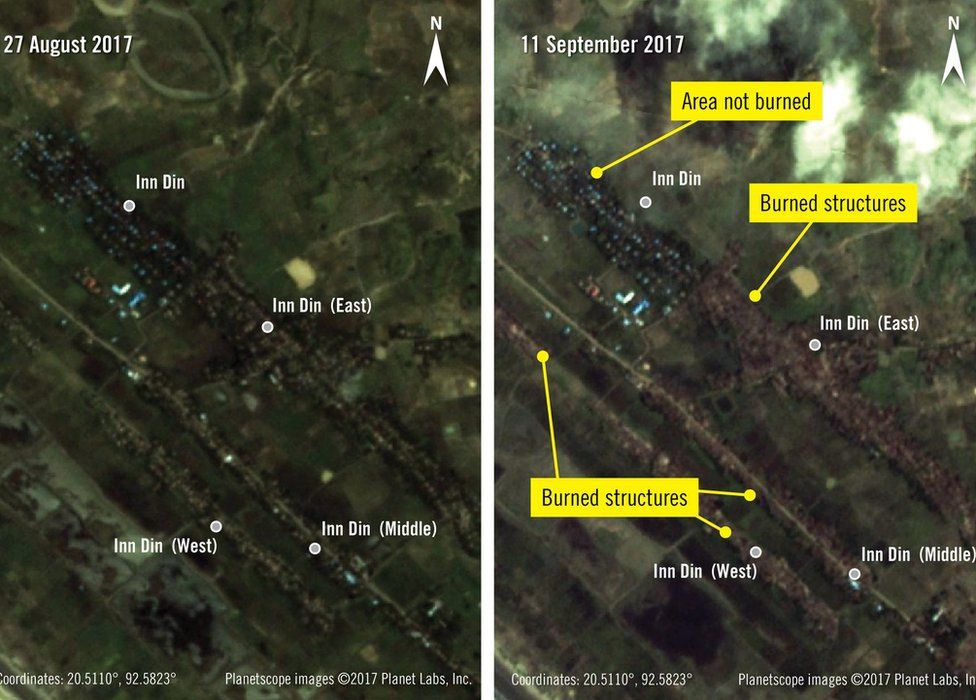 Rights group Amnesty International has released satellite images which it says show an "orchestrated campaign" to burn Rohingya villages in western Myanmar.
Amnesty said this was evidence security forces were trying to push the minority Muslim group out of the country.
The army says it is fighting militants and denies targeting civilians.
Some 389,000 Rohingya have fled to Bangladesh since violence began last month. They have long been persecuted in Myanmar as "illegal immigrants".
At least 30% of Rohingya villages in Rakhine state are now empty, the government says.
They have lived in the state in Myanmar, also known as Burma, for generations but are denied citizenship.
Myanmar has faced international condemnation over the crisis.
On Thursday US Secretary of State Rex Tillerson said Myanmar's democracy was facing a "defining moment".
"I think it is important that the global community speak out in support of what we all know the expectation is for the treatment of people regardless of their ethnicity," he said in London.
"This violence must stop, this persecution must stop."
A day earlier UN Secretary General Antonio Guterres said the Rohingya were facing a catastrophic humanitarian situation, and attacks on villagers were unacceptable. The UN Security Council has called for urgent steps to end the violence.
What does the Amnesty report say?
Amnesty said it had new evidence based on fire-detection data, satellite imagery, photos and videos, as well as interviews with eye-witnesses, of "an orchestrated campaign of systematic burnings" targeting Rohingya villages for almost three weeks.
"The evidence is irrefutable - the Myanmar security forces are setting northern Rakhine State ablaze in a targeted campaign to push the Rohingya people out of Myanmar. Make no mistake: this is ethnic cleansing," said Tirana Hassan, the group's crisis response director.
Amnesty said security forces would surround a village, shoot people as they fled and burn down their houses, describing the acts as "crimes against humanity".
It said it had detected at least 80 major fires in inhabited areas since 25 August, following attacks on police posts by the rebel Arakan Rohingya Salvation Army (Arsa).
No fires of this magnitude had been seen in similar periods over the last four years, Amnesty added.
The rights group said it had also received credible reports of Rohingya militants burning homes of Buddhist ethnic Rakhine but had been unable to verify them.
What do the authorities say?
Myanmar's envoy to the UN has blamed the Rohingya insurgents for the violence in Rakhine state and said that his country would never tolerate such atrocities.
Government spokesman Zaw Htay has urged displaced people to find refuge in temporary camps set up in Rakhine state, but said Myanmar would not be able to allow all those who fled to Bangladesh to return.
On Wednesday, the head of Myanmar's armed forces, Gen Min Aung Hlaing, said that the country "could not accept and recognise the term 'Rohingya' by hiding the truth" (meaning Myanmar's claim that they are illegal immigrants from Bangladesh).
"Rakhine ethnics [Buddhists] are our indigenous people who had long been living there since the time of their forefathers," he said.
What other evidence is there?
At the government's own admission, 176 Rohingya villages, more than 30% of the total in northern Rakhine state, are now empty.
Reports of atrocities preceded the Amnesty report, with testimony from fleeing Rohingya of involvement by security forces in the razing of their villages.
Though access to Rakhine state is heavily controlled, the BBC's Jonathan Head was one of a few journalists taken on a government-run tour recently and witnessed Muslim villages being burned with police doing nothing to stop it.
While the current crisis has seen nearly 400,000 Rohingya flee, the UN says Bangladesh was already hosting several hundred thousand undocumented Rohingya who had fled earlier violence.
Other Rohingya have been living in camps for displaced people within Myanmar.
There were at least a million members of the Rohingya ethnic group living in Myanmar, most of them Muslim, though some are Hindu. They are thought to have their origins in what is now Bangladesh and the Indian state of West Bengal, but many have been present in Myanmar for centuries.
The law in Myanmar does not recognise the Rohingya ethnic minority as one of its "national races" and they are effectively denied citizenship. Human Rights Watch describes the Rohingya as one of the largest stateless populations in the world.
"Restrictions on movement and lack of access to basic health care have led to dire humanitarian conditions for those displaced by earlier waves of violence," the group says.
Bangladesh's Prime Minister Sheikh Hasina has called on Myanmar to take the Rohingya refugees back.