Rohingya crisis: 'Last chance' for Aung San Suu Kyi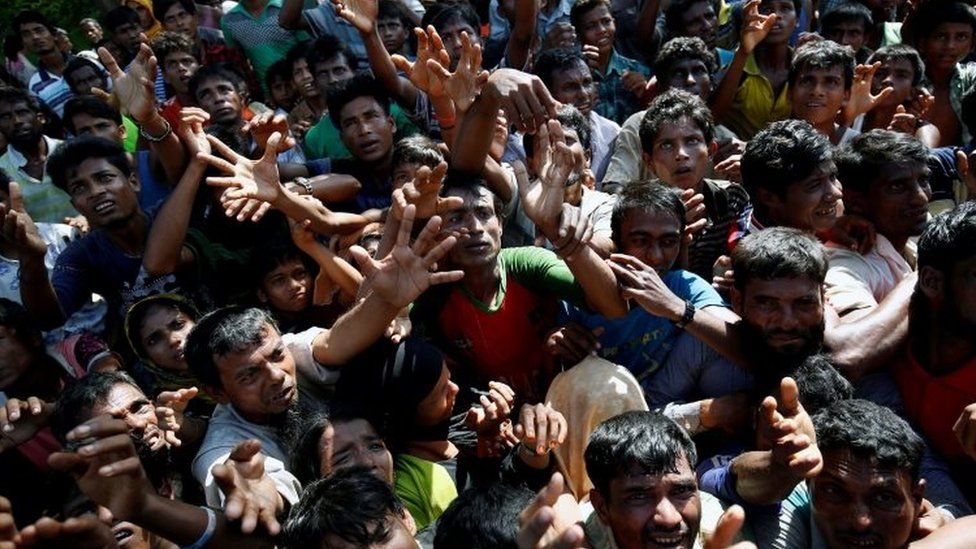 Myanmar's de facto leader Aung San Suu Kyi has "a last chance" to halt an army offensive that has forced hundreds of thousands of the mainly Muslim Rohingya to flee abroad, the UN head has said.
Antonio Guterres told the BBC unless she acted now, "the tragedy will be absolutely horrible".
The UN has warned the offensive could amount to ethnic cleansing.
Myanmar says it is responding to deadly militant attacks in northern Rakhine state and denies targeting civilians.
The country's army chief, General Min Aung Hlaing, on Sunday accused the Rohingya of trying to build a stronghold in the state.
In an interview with the BBC's HARDtalk programme ahead of this week's UN General Assembly, Mr Guterres said Aung San Suu Kyi had a last chance to stop the offensive during her address to the nation on Tuesday.
"If she does not reverse the situation now, then I think the tragedy will be absolutely horrible, and unfortunately then I don't see how this can be reversed in the future."
The secretary general reiterated that the Rohingya should be allowed to return home.
He also said it was clear that Myanmar's military "still have the upper hand" in the country, putting pressure "to do what is being done on the ground" in Rakhine.
Aung San Suu Kyi - a Nobel Peace Prize laureate who spent many years under house arrest in the junta-run Myanmar (Burma) - is now facing growing criticism over the Rohingya issue.
She said tensions were being fanned by fake news promoting the interests of terrorists.
Bangladeshi police said Rohingya would not be allowed to travel anywhere outside of their allocated homes, not even to live with family or friends.
Transport operators and drivers have also been urged not to carry refugees, with landlords told not to rent out any property to them.
Bangladesh also announced plans to build shelters for up to 400,000 people near the city of Cox's Bazar.
Analysts say the government wants to stop the Rohingya from disappearing into the general population and to keep them visible, in the hope of returning them to Myanmar - or even a third country.
On 25 August, Rohingya militants attacked police posts in northern Rakhine, killing 12 security personnel.
Rohingya who have fled Myanmar since then say the military responded with a brutal campaign, burning villages and attacking civilians in a bid to drive them out.
The Rohingya, a stateless mostly Muslim minority in Buddhist-majority Rakhine, have long experienced persecution in Myanmar, which says they are illegal immigrants.
But army chief Gen Min Aung Hlaing said on Sunday that the Rohingya formed a Muslim group that has no roots in the country.
"They have demanded recognition as Rohingya, which has never been an ethnic group in Myanmar," he wrote in a Facebook post.
Officials earlier suggested that not all who have fled to Bangladesh would be allowed to return.
Some who fled from Rakhine state told the BBC earlier this month about killings, rape and even massacres, while inside Rakhine, a BBC crew witnessed charred homes inside Rakhine.
A new Human Rights Watch report released on Friday accused the Myanmar military of an "ethnic cleansing campaign" and detailed scores of villages targeted with arson attacks.
The full interview with Antonio Guterres will be broadcast on BBC World News on Monday, 18 September at 03:30, 08:30; 14:30 and 19:30 (all times GMT)