Did Taiwan police and paramedics leave migrant worker to die?
By Cindy Sui
BBC News, Taipei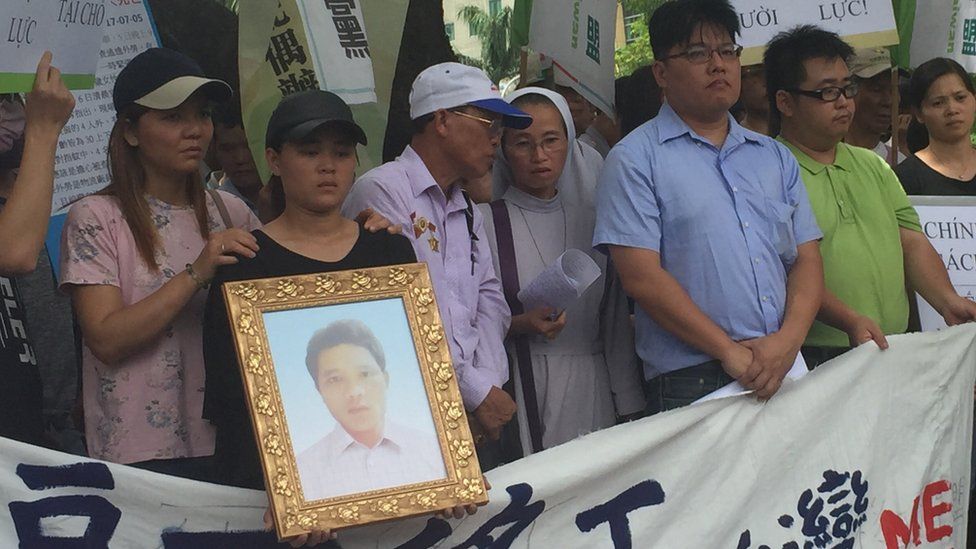 Footage apparently showing police and paramedics failing to give medical treatment to a Vietnamese migrant worker, who had been fatally shot by a police officer, has prompted outrage in Taiwan.
Former factory worker Nguyen Quoc Phi, 27, was shot nine times in Hsinchu County near Taipei on 31 August, after the officer and a government worker responded to a reported car theft.
Dashcam video from the first ambulance shows a police officer telling paramedics not to approach Nguyen because he had not been restrained.
They stood by for several minutes not offering the man any help. The ambulance then took away the slightly injured government worker without attending to the severely wounded man lying on the ground.
Despite his injuries, the casualty was handcuffed. A second ambulance later arrived but Nguyen was pronounced dead when he arrived at hospital.
Taiwan's government watchdog Control Yuan has launched an investigation into what happened amid protests by rights groups. Prosecutors have also begun an inquiry.
The dead man's father, Nguyen Quoc Dong, said: "I only have one demand: Taiwan's government should say clearly what happened and why."
The case has sparked debate about the treatment of migrant workers in the country.
Asked why emergency crews did not help Nguyen immediately, a paramedic from the Hsinchu County Fire Bureau's San Chi substation told the BBC: "The police officer told us not to get close.
"What if [the migrant] suddenly became crazy and did something? And he hadn't been handcuffed, so we couldn't do anything."
The National Police Agency had said Nguyen had attacked the officer and the government worker when they tried to stop him from vandalising and stealing a car.
But his father questioned the police's version of events.
"I don't believe what the police said that my son tried to steal a car. He can't even drive," he said.
"I think there was excessive use of force."
The Taiwan International Workers Association (TIWA), which organised a protest on Friday, urged the authorities to release any footage related to the case. Ambulance dash cam footage was later obtained by the BBC but was not broadcast due to its distressing nature.
It is not clear whether the police officer or his car were equipped with a camera.
Taiwan is a major destination for migrant workers, employing more than 600,000 in factories, homes and in other manual labour.
Activists say they are often trapped into paying off huge debt to employment brokers, so many run away from their jobs to avoid having big chunks deducted from their salary. They instead work in the black market illegally but they risk getting arrested.
Nguyen had run away from his job three years ago.
Speakers at the protest on Friday criticised the government and law enforcement authorities' practice of treating runaway migrants like criminals.
"I ask Taiwanese people, how come some people can change employers and some can't? And those who run away from their jobs are arrested and even shot by police. These incidents are happening in so called democratic Taiwan," said the TIWA's researcher Hsu Wei-dung.
"Only when the whole Taiwanese society and government really face up to this problem can we really change this," he said.