100 Women: Meet Susi Pudjiastuti, the Indonesian minister blowing up boats
By Rebecca Henschke
BBC Indonesian Editor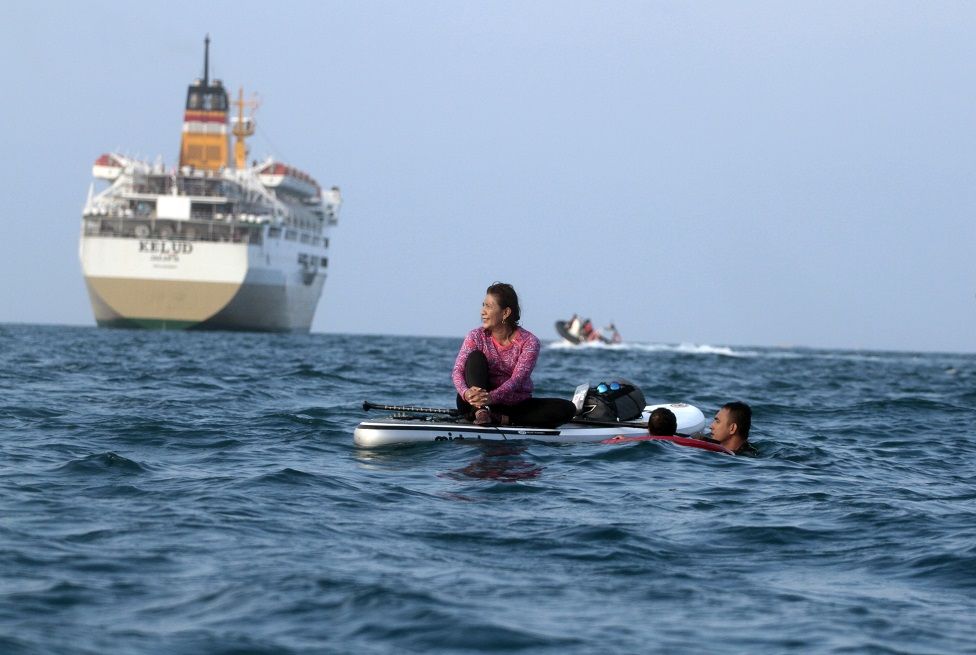 Indonesia has never had a political figure like Susi Pudjiastuti.
The minister of maritime affairs is a tattooed high school dropout turned self-made businesswomen, and is leading a tough crackdown on illegal and unsustainable fishing. Hundreds of boats have been blown up on her orders.
When President Joko Widodo was asked why he appointed her back in 2014, he said he needed "a crazy person in order to make a breakthrough".
Now, her outspoken style has turned her into something of a pop culture icon.
All this in a country home to the world's largest Muslim population and which, in general, thinks poorly of its politicians.
Ms Pudjiastuti has been painted as Superwoman on a public mural, depicted as a half mermaid-half warrior and as a manga comic action figure.
Her carefully crafted social media image, meanwhile, is shaking up Indonesia's normally conservative political style.
"I don't try to adjust myself to the political mainstream way of doing things, I wouldn't be successful if I try to be someone else," she says, giving her signature throaty laugh.
"It hasn't been easy but now I see it as an advantage. I decided early on that I had to be open, open, open.
"I didn't change myself because I thought the current would be too strong against me and I would be swallowed up."
Videos of her dancing to the Beatles on board a navy vessel after an inspection or sipping coffee on a paddle board in the middle of the sea have all gone viral and polls show she is widely liked.
But each time there is talk of a cabinet reshuffle there are rumours that President Jokowi is under pressure to dump her. Critics say her policies are not well thought out.
When the BBC calls to interview her, she has just come back in from the sea and is late for our interview.
"Sorry I fell asleep from the ocean today. I was at sea, swimming and paddling," she says.
"I have to steal a day to run away from everything. The ocean is the best place for that."
BBC 100 Women names 100 influential and inspirational women around the world every year. In 2017, we're challenging them to tackle four of the biggest problems facing women today - the glass ceiling, female illiteracy, harassment in public spaces and sexism in sport.
She now lives her life under intense scrutiny, attracting unprecedented attention, especially for a maritime affairs minister which is usually a low profile position.
But social media can be an ugly place for women in politics.
"When a picture went viral of me smoking around the corner of the palace shortly after I was appointed, I read all the thousands of negative comments," Ms Pudjiastuti says.
"They said, 'You are a mother, you are very well known, my daughter likes you so much and now I am worried my daughter will smoke like you!'"
"I felt bad, I said I promised to stop, well I never smoke publicly anymore," she laughs.
The Deputy Speaker of the House, Farid Hamzah, tweeted a picture showing her leg tattoos and called her a common street thug.
"There is definitely a stigma about women who have tattoos in Indonesia," says Ms Pudjiastuti. "But I got them more than 30 years ago, because my friends had them and they were good people.
"In the beginning I did try to wear clothes that didn't show my tattoos, long skirts and long pants but I just started going crazy.
"In the last two years I have gained weight, almost 20lb (9kg), so I am getting judged for that too. But you just have to stop thinking about it."
Instead of talking about her, she wants people to focus on the work she's doing to tackle illegal fishing.
"We needed a deterrent effect, we have such a huge area to watch, it's impossible to really monitor it," she says.
So she decided to start blowing up the boats they caught in front of the cameras.
"I don't think anyone is happy to see their boat being blown up. It's shock and awe and a scare tactic."
Under her watch Indonesia has destroyed hundreds of boats, including some from China, which claims that waters surrounding Indonesia's Natuna Islands are traditional Chinese fishing grounds.
It has led to diplomatic tensions between the two countries and criticism that her style is too confrontational from within Indonesia's parliament.
Ms Pudjiastuti admits she didn't really know what she was getting into.
"I didn't realise how big it was, who the people were. I didn't really think about it."
She insists the data shows her strategy is paying off and fish stocks are significantly on the rise.
Her efforts have won her international praise from environmentalist and Hollywood actor Leonardo DiCaprio, but critics say the tight regulations have hurt local fishermen.
Susi says there is a glass ceiling in Indonesia when it comes to women taking on leadership roles but she was brought up to think of herself always as equal to men.
Her mother ran away from home when she was 12 to avoid an arranged marriage to an older man.
"It was the 1930s, that kind of thing happened," she says.
"She lived with the nuns for a few years and ended up marrying very late - she was 32 years old when she had me."
Raised on the south coast of West Java, Ms Pudjiastuti says her parents were strict and didn't treat her any differently from her brothers.
"They never said this is a man thing, this is a woman thing, they treated us as equals. That was very helpful for me," she says.
"That's what I say to the women's organisations now; if you're still busy talking about the differences you are not going to move forward, stop the barriers in your own mind first. I think less thinking is often the best.
"Life has allowed me to do things the way I want to do things."