Suicide 'shepherd' bomber kills several people near Kabul mosque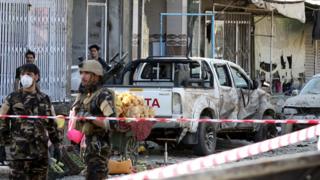 A suicide bomber has killed at least five people near a Shia mosque in Kabul ahead of the major religious commemoration of Ashura.
The attacker disguised himself as a shepherd in order to approach the mosque, Kabul police's criminal investigative director told AFP.
"The bomber was grazing a herd of sheep and before reaching his target he detonated," General Salim Almas said.
So-called Islamic State (IS) said it was behind the attack.
At least 20 people were injured.
Health ministry spokesman Najib Danish told the BBC that number could rise. Children are reported to be among the wounded.
The target of the attack appears to have been the Shia mosque in the Qala-e Fatullah area of the Afghan capital, though the attacker detonated his device a short distance from the mosque itself.
IS had previously claimed it carried out last month's bombing at another Shia mosque in the city left more than 20 people dead and dozens injured, after gunmen entered the mosque itself following the blast.
Last year, at least 14 people were killed at Kabul's Karte Sakhi shrine during preparations for Ashura.
Ashura is marked by Muslims around the globe.
For Shia Muslims, it is a solemn day to mourn the martyrdom of Hussein in 680 AD at Karbala in modern-day Iraq. It is marked with mourning rituals and passion plays re-enacting the martyrdom.
In the run-up to the festival this year, civilian guards have been posted at some of the city's mosques in anticipation of an attack.
A shopkeeper said that the suicide bomber in Friday's attack had been approached by suspicious guards who had set up a checkpoint near the mosque.
Afghanistan is a mainly Sunni Muslim country. Shias are estimated to make up about 10-20% of the population.