Myanmar jade mining: Five dead in clash with police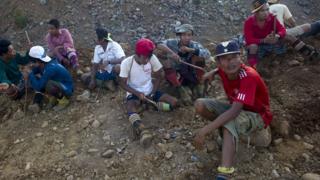 At least five people have been killed and 20 injured as police opened fire on hundreds trying to enter a jade mine in Myanmar, state media report.
Fifty people tried to enter a privately-owned mine in an industrial plot, but were prevented by police, the Global New Light of Myanmar paper says.
Police opened fire, it said, when about 600 people returned armed with knives.
Myanmar is home to nearly all of the world's finest jadeite, a much-prized, near-translucent green stone.
The incident happened at Hpakant, which was once a fertile region known for providing some of the best quality jadeite, but has since been made barren by industrial activity linked to Myanmar's junta-era elite.
The state-run newspaper Global New Light of Myanmar said a further five police officers were injured in the clash.
The AFP news agency, quoting two locals, says the death toll is likely to be higher, with "at least seven killed at the scene while three more died at the hospital".
China is a favourite destination for jade due to a huge demand for the green gemstone, which is considered to be "lucky" there.
Recently poor workers from across Myanmar have been pouring into Hpakant in search of the precious gem. But it is an extremely dangerous area often hit by landslides during the monsoon season, which in 2015 led to the deaths of over 100 people.
According to advocacy group Global Witness, the jade mining industry in Myanmar was worth $31bn (£24bn) in 2014 and was described as the "biggest natural resource heist in modern history".
However, according to AFP, there is little sign that locals are benefitting from this profitable industry, especially due to the environmental degradation caused as a result of the mining.
There have also been clashes between Myanmar's powerful military and ethnic rebel groups, both of whom are believed to profit from the trade.
Worse still, easy access to crystal meth and cheap heroin in the Golden Triangle - border regions between Thailand, Myanmar and Laos - has made drug abuse rife among the miners.