Iraq rebuffs Tillerson call to disband Iran-backed militias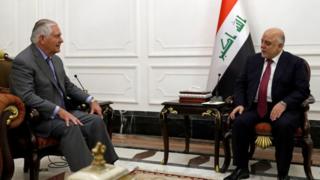 Iraq's prime minister has defended Iran-backed militias, during talks with US Secretary of State Rex Tillerson who had criticised their role.
During Mr Tillerson's visit to Baghdad, PM Haider al-Abadi called the fighters the "hope of Iraq and the region".
Mr Tillerson said earlier that the militias should disband, as the fight against the Islamic State militants in Iraq was almost over.
The Shia-led forces were mobilised in fighting against IS in Iraq in 2014.
The militias, known as the Hashd al-Shaabi (Popular Mobilisation, or PM) recently helped Iraqi troops seize the disputed northern city of Kirkuk from Kurdish forces.
Mr Tillerson held talks with Mr Abadi in Baghdad late on Monday, a day after the two men spoke during regional talks in Saudi Arabia.
After that meeting Mr Tillerson told reporters that it was time for the Popular Mobilisation fighters to "go home" now that the battle against IS was "coming to a close".
But during their talks in Baghdad, Mr Abadi said the paramilitaries were Iraqis - not Iranian proxies - and that they "should be encouraged because they will be the hope of country and the region", his office said.
The fighters "defended their country and sacrificed themselves to defeat the Islamic State group", the statement added.
Mr Tillerson had flown in from Afghanistan, where he met President Ashraf Ghani and Chief Executive Abdullah Abdullah to discuss new US plan to end the war there.
Thousands of extra US troops are being deployed as part of the strategy to defeat the Taliban.
Mr Tillerson said he believed there were moderate elements among the insurgents and the US was hoping to engage them in a peace process.
He said he would visit Pakistan on Tuesday to discuss US requests to act against the Afghan Taliban and other extremist groups.
This was first visit of the former ExxonMobil chief to Afghanistan as secretary of state and it came weeks after a visit by US Defence Secretary Jim Mattis.