Miss Universe Malaysia to wear nasi lemak dress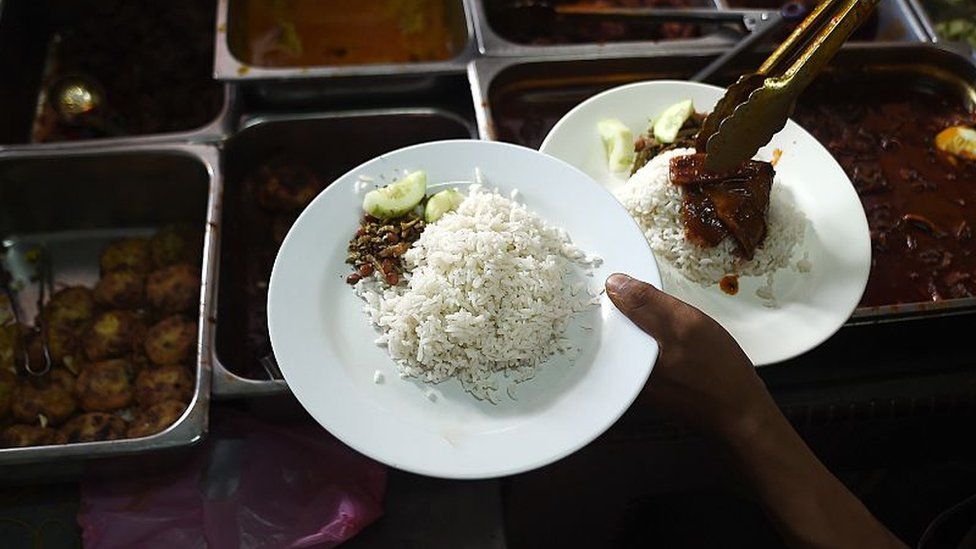 Malaysia has cooked up an unusual outfit for its Miss Universe representative this year - a dress depicting its national dish, nasi lemak.
Local pageant organisers on Tuesday unveiled the gown which Samantha Katie James will wear during the national dress section of the Miss Universe finals, which will be held later this month in Las Vegas.
The dress, which has delighted and confounded Malaysians, may be a quirky choice, but it's the latest iteration of what appears to be a nasi lemak metamorphosis craze sweeping the region.
It's basically coconut milk-infused rice accompanied by various ingredients - the standard ones are a fried egg, cucumber slices, tiny fried anchovies, peanuts, and a hefty dollop of sambal, or spice paste.
The dish - which means "fatty rice" in Malay - is usually wrapped up in banana leaves, and often eaten for breakfast.
With great caution, apparently. On Tuesday, Ms James gingerly inched through a door to the press conference in Kuala Lumpur, to avoid crushing the towering green wings (banana leaves) attached to her gown.
Local designer Brian Khoo had also sewn embellishments on her dress - made of ivory silk to represent coconut rice - depicting the other ingredients, as well as a splash of red crystals for the sambal.
Organisers introduced the outfit, which took more than 400 hours to make, as a "feast for the eyes and the senses, mmm!"
The national dress section of the Miss Universe pageant is known for its wacky outfits, but Malaysians watching the unveiling live on Facebook were nevertheless taken aback.
Them's fightin' words - like in the great Middle Eastern kebab/kabob debate, nasi lemak is equally loved, and claimed, by more than one country in the region.
Singapore and certain parts of Indonesia have claimed ownership of the dish, which in recent years has seen something of a creative renaissance.
There's now nasi lemak pizza...
...nasi lemak ice cream...
...and even a nasi lemak burger rolled out by McDonald's in Singapore earlier this year - although many wondered why the rice was replaced by all-American hamburger buns.
But the icing on the cake (sambal on the rice?) may be the nasi lemak condoms made by Malaysian contraceptive maker Karex.
Due to be sold in shops in the next few weeks, the prophylactics apparently smell faintly of coconut and are coated with a warming lubricant, reported the AFP.
Karex's chief executive Goh Miah Kiat told the news agency that his attempt to spice things up in the bedroom was actually aimed at promoting national unity.
"I felt one thing that unites us all (is), 'Where's the best nasi lemak place you've been?'" he said.
Reporting by the BBC's nasi lemak-loving Tessa Wong.