India: Is Gujarat synonymous with development thanks to Modi?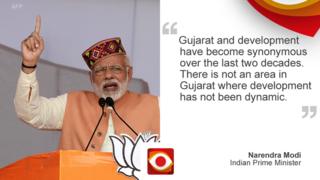 The claim: The Indian state of Gujarat is a development success story, and this is down to the economic policies of its former chief minister, Indian Prime Minister Narendra Modi.
Reality Check verdict: Gujarat's economy did grow when Mr Modi was chief minister. However, it's not clear that this was all down to his policies, and Gujarat is lagging behind much of the rest of India when it comes to human development.
"Vikas", meaning growth or development, is a word you hear a lot in India these days.
With assembly elections under way in Gujarat, the ruling Bharatiya Janata Party (BJP) would like voters to remember this word at the ballot box.
India's current PM, Narendra Modi, was Gujarat's chief minister from 2001 to 2014.
His prime ministerial campaign was boosted by the claim that Gujarat was developing faster than anywhere else because of his economic policies - so-called "Modinomics".
"There is not an area in Gujarat where development has not been dynamic," wrote Mr Modi in a recent letter to Gujarati voters.
Is Gujarat really one of the best developing parts of India? And is that development down to Mr Modi?
The case for Modinomics
Under Mr Modi's BJP party, Gujarat invested in infrastructure, such as roads, power and water supply.
The state completed nearly 3,000 rural road projects between 2000 and 2012, according to the Ministry of Rural Development, and the amount of electricity available per person in Gujarat increased by 41% between 2004-05 and 2013-14.
At the same time, Mr Modi cut red tape to entice specific companies to set up major operations in Gujarat - including Ford, Suzuki and Tata.
And, so the story goes, this contributed to Gujarat's economic success - between 2000 and 2010, Gujarat's gross state domestic product (GSDP), the value of all the services and goods it produced, grew by 9.8%, compared with 7.7% for India as a whole.
According to analysis by ratings agency Crisil, Gujarat's manufacturing sector has grown particularly strongly in recent years.
Crisil's chief economist, Dharmakirti Joshi, says this has been helped by Mr Modi's "business-friendly" approach.
"The growth of manufacturing in the state of Gujarat is a sign that Modi has helped the state by creating a better environment for investments," he says.
The case against
But Dr Nikita Sud, professor of development at the University of Oxford, says Mr Modi can't claim all the credit for Gujarati prosperity - she says Gujarat was already on a "steady wicket".
Historically, Gujarat has been one of the most industrialised states in India, strategically located on the west coast.
As Dr Sud puts it: "There's a history of business, trade and having a solid economic foundation. To Mr Modi's credit he hasn't destroyed it, but he is not the originator of it."
Gujarat's growth increased under Mr Modi - so even though the state was prosperous before, did his policies further boost growth?
To clearly prove that, you would need to show that the gap between the Gujarati and all-Indian growth rates widened between 2001 and 2014.
Prof Maitreesh Ghatak, from the London School of Economics, and Dr Sanchari Roy, from King's College London, have put this to the test.
'The evidence does not suggest that Mr Modi had a decisive effect on Gujarat's economic performance," says Prof Ghatak.
He adds: "Under Modi's rule, the agricultural growth rate in Gujarat did outstrip that of India compared to the pre-Modi era." But this wasn't true for overall gross domestic product [GDP] growth or for manufacturing.
Vikas gone mad
And a new slogan has been circulating: "Development has gone mad" - those at the bottom of society are not seeing the wealth trickle down.
That's because Gujarat lags behind other wealthy states when it comes to human development, which includes measures such as inequality, education and health.
Gujarat ranks 17th among India's 29 states on infant mortality. In Gujarat, 33 babies die per 1,000 live births, compared with 12 in Kerala, 21 in Maharashtra and 23 in Punjab.
Meanwhile, the maternal mortality rate (MMR), defined as female deaths per 100,000 live births, rose from 72 in 2013-14 to 85 in 2015-16.
Nearly four in 10 children under the age of five are underweight in Gujarat. That's fallen over the past decade, but Gujarat ranks 25th out of 29 states on this measure.
Prof Ghatak warns that Gujarat's industrial development isn't reaching everyone.
"Unless these are industries that generate sufficient labour market gains from higher employment options and wages, or social expenditure aimed at creating opportunities for the poor, this will not result in broad-based development," he says.
What do you want BBC Reality Check to investigate? Get in touch