100 Women: Rape survivors in Vietnam and Thailand struggle for justice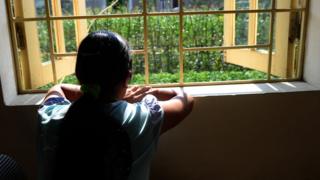 Women who survive rape in Vietnam and Thailand struggle to get justice because of claims that sexual violence is only a problem when it happens to "innocent" women and girls, a report suggests.
A new UN study showed that women were pushed out of the justice system at every stage, from initial reporting through to trial, because of discrimination against them.
"Raping a virgin is worse than raping a non-virgin," one male Vietnamese police officer told researchers.
The study has recommended a number of changes to improve justice outcomes for victims of rape, some of which are already being implemented by authorities.
These include training for judges and police to avoid stereotyping and for forensic professionals to ensure evidence is collected in a way that does not cause further victimisation to the woman.
Researchers commissioned by UN Women, United Nations Development Programme (UNDP) and United Nations Office on Drugs and Crime (UNODC) reviewed 290 case files from the police or courts and interviewed 213 people including government officials, judicial personnel and civil society activists.
It is the first study of its kind to look at attrition; that's the process by which cases drop out or are lost by the criminal justice system.
One of the myths exposed by the report was that "real rape" involved strangers. Of the cases reviewed, between 86% and 91% of the suspects were known to the victims and the violence took place in a private space.
It found that police, prosecutors and judges are not immune to bias and stereotypes, with women often being blamed for the sexual violence they suffered.
"You were raped because of the way you dressed yourself, if not by this offender you would be abused by another," one statement from a Vietnamese police officer read.
What is 100 Women?
BBC 100 Women names 100 influential and inspirational women around the world every year. For our 2017 season we challenged them to tackle four of the biggest problems facing women today - the glass ceiling, female illiteracy, harassment in public spaces and sexism in sport. Find us on Facebook, Instagram and Twitter and use #100Women
Director General of the Criminal and Administrative Law Department at the Ministry of Justice Vietnam, Ms Nguyen Thị Kim Thoa, told journalists: "Vietnamese police are mostly male, making female victims feel reluctant to report the case."
Other barriers include inadequate protections offered to victims, encouragement of settlement outside the criminal justice system, a focus on the victim's "credibility" rather than forensic or physical evidence and a required time limit for victims to report cases of sexual violence.
In Vietnam, marital rape cases were not frequently reported to the police, even though it is recognised as a crime.
"The police and the Women's Union do not believe rape can happen in marriage, so they try to solve these problems through reconciliation," one female academic told researchers.
In Thailand, victims raised concerns about how they were treated by police officers and said the mandatory forensic examinations did not take into account the time between the incident and when it was reported.
Police in Thailand receive no formal mediation and settlement training, but interviews revealed that police too often took on this role.
Victims reported that when they were waiting to make their report, the suspect was in the same room and members of the public were able to overhear conversations with the police.
Some of the questions female officers asked of victims in police stations in Bangkok, Chiang Mai and Songkhla included: "It was late why did you go with him in the first place?
"What were you wearing when the incident happened?
"Why didn't you shout or fight back?
"Are you sure that you did not give him any signals that you were interested?"
'More female police officers'
Following recommendations, the Vietnamese government has amended the penal code and criminal procedure code to better support the victims of sexual violence. Victims of sexual assault will now receive free legal aid and there will be a closed hearing room.
"There will be more female police officers who are trained to talk to rape victims, as women understand each other better, " said Ms Nguyen.
The Royal Thai Police in partnership with UN Women are expanding the training of officers and will be putting funding toward a public campaign to inform victims on their rights.
However, others say there is still a long way to go.
Khadad Chouwilai works at the Women and Men Progressive Foundation in Thailand, where he advises victims of rape and sexual violence about their rights.
"Gaps in the law make it very difficult for Thai women to take their case to court, especially when financial settlement is suggested," he said.
Of the 3,000 cases of rape Mr Chouwilai has been aware of this year, only 100 have gone to court.
"There are a number of hotlines for women all over Thailand, including in hospitals, but you can't find them everywhere and there are gaps in the service," he said.
Graphics by Davies Surya