What North Korean Hwasong-15 missile launch pictures tell us
North Korea has released pictures and videos of its controversial launch of a new missile which it claims can hit anywhere in the mainland United States.
The images feature North Korean leader Kim Jong-un and several high-ranking military officials celebrating as the Hwasong-15 takes off. This is what we have learnt.
The rocket is enormous
Many observers have been struck by the missile's vast size - this undated picture released by state media of Mr Kim dwarfed by the rocket he is inspecting gives an idea of its scale.
Michael Duitsman, a research associate at the Centre for Nonproliferation Studies, noted that the missile was much bigger than its previous iteration the Hwasong-14, and added: "Only a few countries can produce missiles of this size, and North Korea just joined the club."
Some have also noted that the rocket appears to have more sophisticated steering and thrusters.
The "new, more capable missile" seems to have a more powerful propulsion system with two main engines and looks like it can carry more than twice as much propellant, David Wright of the Union of Concerned Scientists told Reuters news agency.
It also has a larger and blunter nose cone, which could mean it can carry a "super-large heavy" nuclear warhead on its tip, as Pyongyang claims.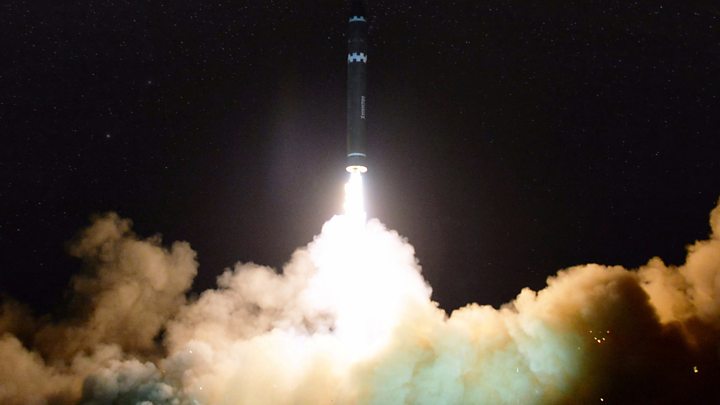 All this means that the missile appears capable of transporting a nuclear warhead for a long distance and possibly surviving atmospheric re-entry. North Korea claims that the Hwasong-15 is a viable intercontinental ballistic missile (ICBM).
There is a new transporter
Photos and videos also appeared to show the missile launching from a platform, and not from a mobile launcher which North Korea has used in previous missile tests. A large nine-axle vehicle transported the rocket to the site.
Analysts believe this arrangement was due to the missile's large size, and means it needs more time to launch.
In a situation when snap responses need to be made, "this makes a big difference during crises," said NK Pro analyst Scott LaFoy.
The launch took place against a striking backdrop of a night sky filled with stars, with a noticeable but perhaps unsurprising absence of light pollution.
It was celebrated with cigarettes
A jubilant Mr Kim is seen in many of the pictures, grinning as the rocket takes off. The missile's steep trajectory can be seen on screens in the background, apparently charted in real time.
It is believed to be North Korea's highest-ever missile, and Pyongyang said it achieved a height of 4,475km (2,780 miles).
Mr Kim and his coterie appeared to waste no time in celebrating the successful launch - with cigarettes.
It is not known how far away the viewing platform was from the launch site, but Mr Kim may have form in smoking in the vicinity of fuel-laden missiles - some believe this video from July shows him puffing on a cigarette right next to a Hwasong-14.