Ivana Smit: Model's death in Malaysia casts a long shadow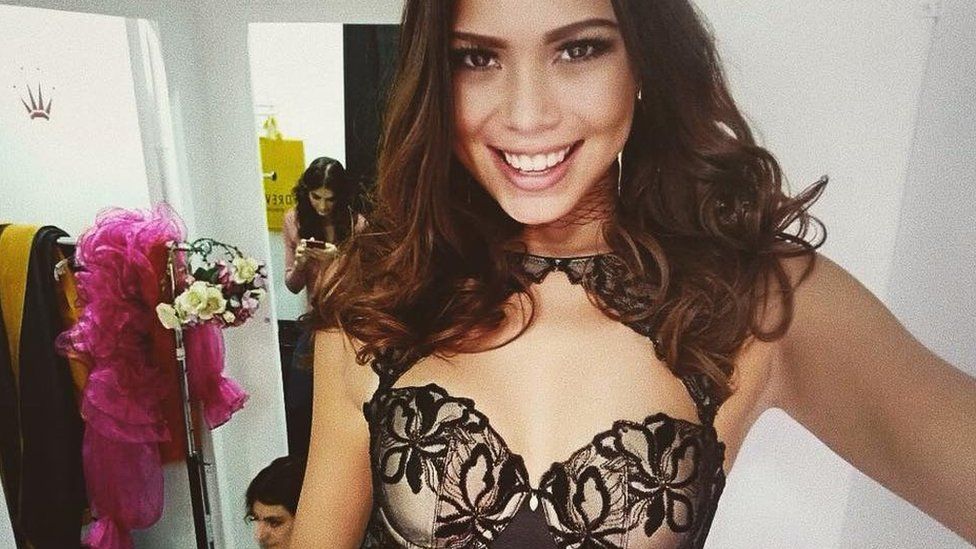 Earlier this month, a young woman was found dead at the bottom of a high rise building in Kuala Lumpur, Malaysia.
Ivana Smit, 18, was a Dutch national who had worked as a model for many years. The circumstances of her tragic death remain a mystery.
It's a story of beauty and death, rife with speculations around sex, drugs and alcohol - and it raises troubling questions about the risks and dangers those in the industry can face.
Ms Smit fell to her death naked from a balcony 20 floors high, reportedly after going home to the apartment with a couple after a party. Her parents were told by police there was no crime suspected, though investigations are continuing. The Dutch foreign ministry told the BBC that Interpol had been contacted over the case.
The family started a second crowdfunding effort this week to collect money for an independent investigation.
Across the modelling industry, the tragedy has touched a deep nerve.
"These things happen so many times - it feels like this this could have happened to any of us," fellow model Emitsa Shz told the BBC.
Ivana Smit had spent most of her life in Malaysia, growing up with her grandparents in Penang.
That's where she started modelling, at the age of 13. After a few years with her parents in the Netherlands, she had just returned to Malaysia and only last month moved to Kuala Lumpur, working as a freelancer, not through an agency.
"She had better opportunities back here," Natalie Woodworth, a childhood friend of Ivana's from Penang, told the BBC.
"I still remember her saying to me: 'I'm back to where I should be.' She was extremely happy to be back in Malaysia."
The details of her death are unclear. Having reportedly gone with an older couple to their apartment, she fell to her death in the early hours of the morning.
Her body was discovered that afternoon on a sixth floor balcony, according to media reports, with alcohol and drugs detected in her blood.
Ivana's family, who flew out to Malaysia, told Dutch media they'd seen marks on her neck.
The foreign couple in the apartment have been charged separately with drugs offences and are out on bail, local media report.
They are reported to have told the police they were asleep when Ivana fell, and later took their child to school - unaware of her death.
The tragedy has led to many passionate calls for change within the industry and people posting under the hashtag #truthforivana are trying to rally support and attention to her case.
Pressure, drugs and alcohol
At 28 years old, and having worked for several years in Kuala Lumpur, Ms Shz is an industry veteran.
She says it's not the modelling jobs themselves that are the concern, but "the many other jobs that are going around for models".
It's not known if this was the case with Ms Smit, but there are plenty of offers, for instance, to just be a party girl. Earning $1,200 (£900) for five hours of simply hanging out at a party is tempting.
Drugs and alcohol are a huge problem in those situations, says model Carl Graham.
"Most of the models have been away from a family unit since very young, they have insecurities and possible issues. And they're drowning them with parties, alcohol and drugs."
Young girls in the industry, some in their early teens, often have very little life experience. The pressure is immense and they can struggle to cope with the glittering world they are thrown into.
"They need to learn to be able to say 'no' and realise that getting paid for going to parties is not modelling, it is a version of escorting," says Mr Graham. "It's the older guys with the money that are usually the ones supplying alcohol and in most circumstances, these days, the drugs too."
"In general, the models do not have adequate protection or support from the agencies," he says.
"They are young girls from all over the world being taken out to bars and clubs until all sorts of times."
In addition, many people in Malaysia have a rather negative, stereotypical image of life and work as a model, he says. It is associated with a hedonistic lifestyle woven into a semi-celebrity world of parties, alcohol and perpetual good times.
"That image has in turn an effect on the girls - it makes them think that that's what they have to do," Ms Shz says. "But that's not the case. You can say 'no' to things and still do your job."
'We warn models to be careful'
Model agencies in Kuala Lumpur have told the BBC that they do take good care of the models working for them.
"There is a lot of that happening," Nicholas Chan of the agency ML Model in Kuala Lumpur agrees. "Alcohol, parties and maybe also drugs."
"As agencies we do warn the models to be careful. But there is only so much that an agency can do."
Besides having his own agency, he is also on the committee of the Association of Model and Modelling Agencies Malaysia.
The umbrella group tries to establish more standards across the country - which he says would then also improve working conditions and stability for the models.
"Of course not all agencies are bad," Ms Shz says. "But some are only after the profit they get and put very little effort into how well they protect the girls from possible dangers."
"These things happen so often," she says of Ivana's death. "But only the most dramatic cases are picked up by the media and even those are quickly forgotten."
Vlada Dzyuba fell ill after taking part in Shanghai Fashion Week and died of multiple organ failure.
While the Chinese modelling agency who employed her denied claims she died from overwork, Russian media blamed her death on meningitis compounded by exhaustion, following "a gruelling fashion show in Shanghai".
'The issues that riddle our society'
But Ms Shz believes such cases do little to change anything.
Agencies usually are not being held accountable, she explains. "The stories I hear from working in China are horrible. If you gain just half a kilo, you'll be told that you are fat and they threaten to send you home."
But the girls often come from poor families, and "home" depends on the money they are bringing in.
Mr Graham wrote an angry Facebook post after Ivana's death, demanding answers and claiming this was about "more than just IVANA's tragic death. This is about all of us standing up and realising the issues that riddle our society and the modelling industry to be exact."
He is sure there already is a lot more that agencies could do, suggesting they should be responsible for girls younger than 18 and even provide adequate chaperones for the ones who are older.
Many of those campaigning for Ivana hope that her death might have a lasting impact and lead to change.
Yet Mr Graham is not too optimistic. "This tragedy will have no impact on the industry."
"Bigger stars have died in the same manner and nothing has changed."