Hua Yong: Detained Chinese artist's emotional last video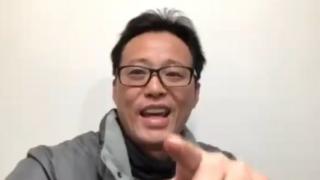 Concerns are mounting for a Chinese artist who has been taken into police custody after posting videos and messages critical of the Communist Party.
Hua Yong's last act was to record a video for his two-year-old daughter because he would not be with her on her next birthday.
The video has now been widely shared on the internet.
It was a desperate final message from the painter, well-known in Beijing.
As he speaks, Chinese police attempt to break down his door to take him away.
His alleged crime: filming protests against forced evictions from some of Beijing's poorest neighbours, part of an unpopular city remodelling plan.
Beijing's unique street life under constant siege
Mass evictions as Beijing is spruced up
The artist protesters in a polluted city on edge
"Everything I did was for you," he tells his daughter in the video, "so you wouldn't have to suffer like your father and grandfather's generations. I am willing to use my life to defend the rights of citizens to speak freely, for the rights of citizens to be people."
Hua Yong's videos documenting the evictions, and online messages calling for individual rights, led to police threats.
Fearing arrest, he fled the capital but was tracked down by the authorities, who have little tolerance for political activism.
As officers raided the building in which he was hiding, Hua Yong made and posted his last emotional video - urging his child to learn English with her Mum.
One day, he said, he would take her around the world. So far, the video has been viewed by tens of thousands of people.