Indonesia recaptures US citizen after Bali prison break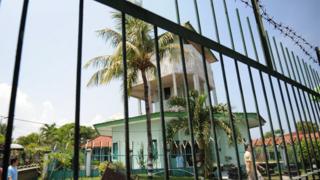 Indonesia has recaptured a US citizen accused of drugs offences who escaped the notorious Kerobokan prison in Bali last week.
The man named as Christian Beasley was caught on the neighbouring island of Lombok.
The 32-year old had escaped by climbing over a prison wall with a fellow inmate who was recaptured immediately.
Indonesia has very strict anti-drugs laws and frequently arrests foreigners on drug-related charges.
The maximum sentence for drug trafficking is death.
"He got arrested on Friday in one of the homestays in Senggigi beach, Lombok," the head of Kerobokan prison, Tonny Nainggolan told the BBC on Monday.
"Right now, he (is) still under detention by the police for further investigation."
Before his prison break, he had been awaiting sentencing for allegedly receiving a package containing 5g (0.18oz) of hashish. It was not clear how much jail time he was likely to get.
His name had initially been reported as Chrishan Beasley.
In June, another jailbreak at Kerobokan saw four inmates escaping through a tunnel they had dug under a wall.
The notoriously overcrowded prison is also where some of the so-called Bali Nine are held, a group of Australians convicted of drug-smuggling.
Despite protest from Australian authorities, two of the group were executed in 2015, while the others are being held in prisons across Indonesia.