A Christmas miracle for workers stranded in Hong Kong?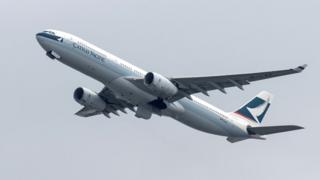 Imagine having booked your flight to get home to your family for Christmas - and then to find out at the airport there's no ticket, no seat, and no chance to get on any flight.
That's what happened to hundreds of domestic helpers in Hong Kong who had booked flights to the Philippines.
At the airport they learned the travel agency never confirmed the tickets.
Now the territory's flag carrier has stepped in, offering cheap fares and big planes to get them home on time.
With all flights usually booked out long ahead of the festive season, the booking debacle would have likely meant there was no way for the disappointed passengers to still catch an affordable flight.
"We understand how important Christmas is to our Filipino friends and we stand ready to help," the Cathay Pacific airline said on Facebook and Twitter.
The carrier did caution though that "our flights to Manila during the holidays are already quite full".
According to the South China Morning Post, the airline will offer distress fares to fill its remaining seats and also consider using larger planes for their flights to Manila.
The drama unfolded over the past days when many helpers arrived at the airport but found out that Peya Travel, the agency who took their money to book the flights, had never confirmed the tickets.
In a Facebook post, Peya travel apologised to its customers, promising to do their best to resolve the problems.
It is unclear whether the agency is in financial trouble and therefore failed to finalise the bookings. It is also not clear whether the customers will be able to get their money back.