Jonghyun fans take comfort in 'pearl aqua Moon' images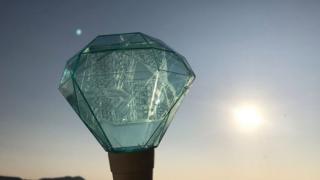 K-pop fans in mourning for superstar Jonghyun have taken comfort in what they say is an oddly coloured Moon in the sky over South Korea.
Each K-pop band has its own signature colour, which fans wave at their concerts. Jonghyun's band, SHINee's, was pearl aqua green.
The Korean superstar took his own life earlier this week at the age of 27 after a battle with depression. A private funeral service was held on Thursday.
Using the viral hashtag #YouDidWellJonghyun, fans of SHINee - who call themselves "shawols" - have come together to pay tribute on social media.
The hashtag comes from a note the star apparently sent to a friend before his death, saying: "Just tell me I've done well. That this is enough."
Fans in South Korea and Japan have been posting pictures which they say shows the Moon glowing pale green during his funeral.
"The moon turning aqua pearl is your way of telling us you've gone to heaven," wrote one fan. "Jonghyun, you were a thoughtful, beautiful angel. I hope you've found happiness and are at peace."
"A blue moon is an 'infrequent phenomenon'," said a fan whose tweet was liked more than 2,500 times.
"The last blue one happened on May 21, 2016 and the next one wasn't due until January 31, 2018. But during Jonghyun's funeral, an aqua blue moon shined bright."
It is likely that the green dots seen in the fans' photos are not actually the Moon, but the result of a lens flare, a glitch that occurs when taking photos in bright light, particularly with smartphones.
Nevertheless, it's an indication of the strong feelings surrounding Jonghyun's death, and it's given real comfort to the fans in their grief.
SHINee were founded in 2008 as a five member group and quickly rose to become of the biggest K-pop boy groups.
Over the past years, they recorded several albums in Japanese and in 2017 sold out the 55,000-seat Tokyo Dome and part of their Japan tour. Earlier this year, they also played their first North American tour.
Jonghyun was found unconscious in a Seoul apartment late on Monday. He was taken to hospital where he was declared dead.
Investigators have said no post-mortem examination will be performed on his body, and ruled his death a suicide.