Rohingya crisis: Myanmar general hit by US sanctions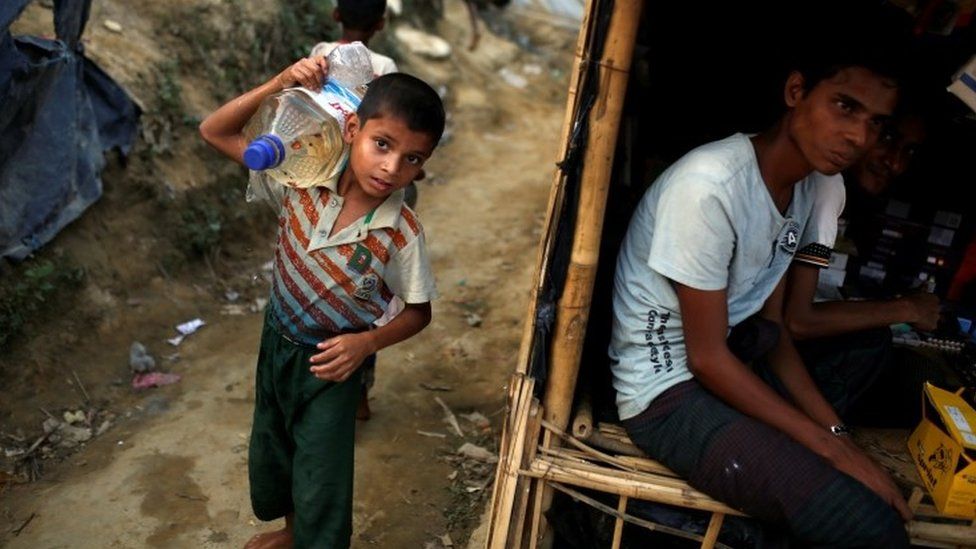 The US has sanctioned a Myanmar general accused of leading an ethnic cleansing campaign against the Rohingya people.
Maung Maung Soe is among a host of world figures blacklisted by the US over human rights and corruption allegations.
The crisis in Myanmar has seen more than 650,000 Rohingya flee for neighbouring Bangladesh since August.
Myanmar's military says it is fighting Rohingya militants and denies targeting civilians.
The exodus began earlier this year when Myanmar's army launched a counter-insurgency operation in northern Rakhine state after militants attacked police posts and killed members of the security forces.
Many who reached Bangladesh - some with bullet or other wounds - said Burmese troops backed by local Buddhist mobs had burned their villages and attacked and killed civilians.
The UN has described the military offensive in Rakhine as a "textbook example of ethnic cleansing".
In its statement, the US Treasury said Maung Maung Soe "oversaw the military operation in Burma's Rakhine State responsible for widespread human rights abuse against Rohingya civilians".
Last month he was transferred from his post, but Myanmar's Ministry of Defence gave no reason for the move.
This week, the UN's investigator into human rights in Myanmar was barred from entering the country.
The government said they barred Yanghee Lee because she was "not impartial and objective", but Ms Lee said the decision suggested "something terribly awful" was happening in Rakhine.
The Rohingya people are predominantly Muslim. The Myanmar government considers them to be immigrants from Bangladesh and does not recognise them as citizens, despite their generations-long presence in the country.
Who else is the US targeting?
The Trump administration said it was sanctioning 52 individuals and entities. They include:
Pakistani surgeon Mukhtar Hamid Shah, who is accused of kidnapping and removing the organs of impoverished labourers
Former Gambian President Yahya Jammeh, who stepped down in January after 22 years in power
Gulnara Karimova, the daughter of the late Uzbek strongman president, who the US said "headed a powerful organised crime syndicate". She is currently in detention.
Israeli billionaire Dan Gertler, who the US accused of amassing a fortune through "opaque and corrupt mining and oil deals in the Democratic Republic of the Congo".
The sanctions freezes any of the individuals and entities' assets and bans US citizens from doing business with them.
US Treasury Secretary Steve Mnuchin said it sent the message that there was "a steep price to pay for their misdeeds".