Tropical Storm Tembin: Bridge damage hampers rescuers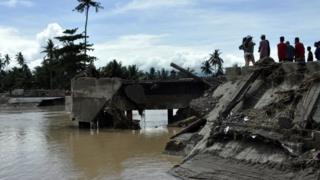 Badly-damaged infrastructure is hampering relief efforts following a deadly tropical storm in the southern Philippines, the local Red Cross says.
Bridges and roads on the island of Mindanao have been destroyed or blocked by landslides, Richard Gordon told the BBC.
Some 200 people have died and at least 70,000 have been displaced by Tropical Storm Tembin.
Rescuers say people were surprised by the strength of the storm.
Nearly 1,000 houses have been wrecked and many rice-fields washed away, Mr Gordon said. About 150 people are still missing.
Continuing heavy rain, power cuts and blocked roads are creating difficulties for rescuers, who have not yet reached some affected areas.
United Nations Secretary General Antonio Guterres said he was saddened by the loss of life, adding that the UN was ready to help.
Police said 135 people had been killed and 72 were missing in northern Mindanao. Forty-seven were killed and 72 missing in the Zamboanga peninsula. In Lanao del Sur, another 18 died.
Between 40,000 and 60,000 people are reported to be housed in evacuation centres.
The mountain village of Dalama was one of the worst affected places. Houses were buried in mud or engulfed in floodwaters.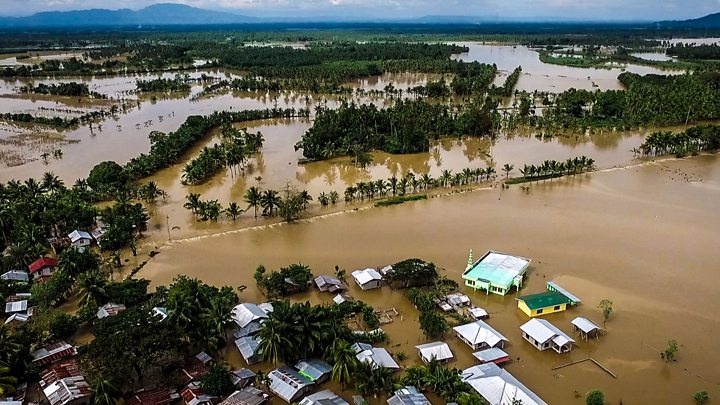 "The flood was already close and the people were not able to get out from their homes," survivor Armando Sangcopan told local TV.
The bodies of eight children were extracted from thick mud in the town of Salvador in Lanao del Norte, the Inquirer reports.
"It's very painful to see the dead bodies of children, whom we also considered to be our own," the principal, Ricardo Abalo, told the paper.
Aid workers said people had not heeded warnings to evacuate before Tembin arrived, either because they believed the storm would not be severe or they had nowhere else to go.
Risks of disease
Many victims were swept away from low-lying residential areas when the flash floods and landslides struck.
More deaths were reported in Bukidnon, Iligan and Misamis Occidental.
Andrew Morris, from the UN children's agency Unicef in Mindanao, said in some areas there were big risks of disease, particularly for children, and restoring clean water supplies would be a priority.
"Lanao del Sur province is the poorest in the Philippines, and in the past seven months there have been around 350,000 people displaced in that province because of fighting," he told the BBC, referring to battles between government forces and Islamist militants in Marawi.
A week ago, Tropical Storm Kai-Tak hit the central Philippines, killing dozens.
The region is still recovering from Typhoon Haiyan, which killed more than 5,000 people and affected millions in 2013.