Japanese astronaut sorry for 9cm ISS growth mistake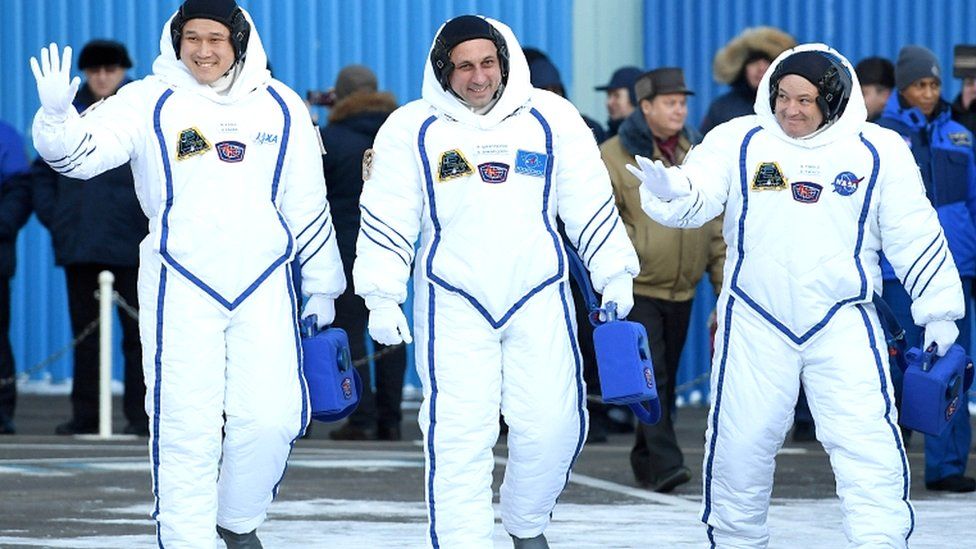 A Japanese astronaut has apologised for wrongly stating he has grown 9cm (3.5in) since arriving at the International Space Station (ISS) just over three weeks ago.
Norishige Kanai said in fact he grew by 2cm, blaming "a measurement mistake".
This is because of the absence of gravity which allows the vertebrae in their spines to spread apart.
Mr Kanai originally tweeted (in Japanese): "Good morning, everybody. I have a major announcement today. We had our bodies measured after reaching space, and wow, wow, wow, I had actually grown by as much as 9cm!
"I grew like some plant in just three weeks. Nothing like this since high school. I'm a bit worried whether I'll fit in the Soyuz seat when I go back."
"So it was a measurement mistake (?), but it seems many people are talking about it.
"I have no back pains, and actually the pain around my neck and shoulders is gone, so I doubt I'm 9 cm taller. Flight Commander Shkaplerov would know these things, he's such a veteran."
Mr Kanai said he was a "bit relieved", adding: "I'll probably fit into the Soyuz when I go home."
The Soyuz spacecraft which takes the astronauts from and to Earth has a limit on seating height. If crew members become too tall, it could pose a problem.
Astronauts can grow while in space and return to a normal height when they go back to Earth.
This is the first space mission for the Japanese astronaut who was previously a diving medical officer with the Japan Maritime Self-Defense Force.