Koreas to march under single 'united' flag in Olympic Games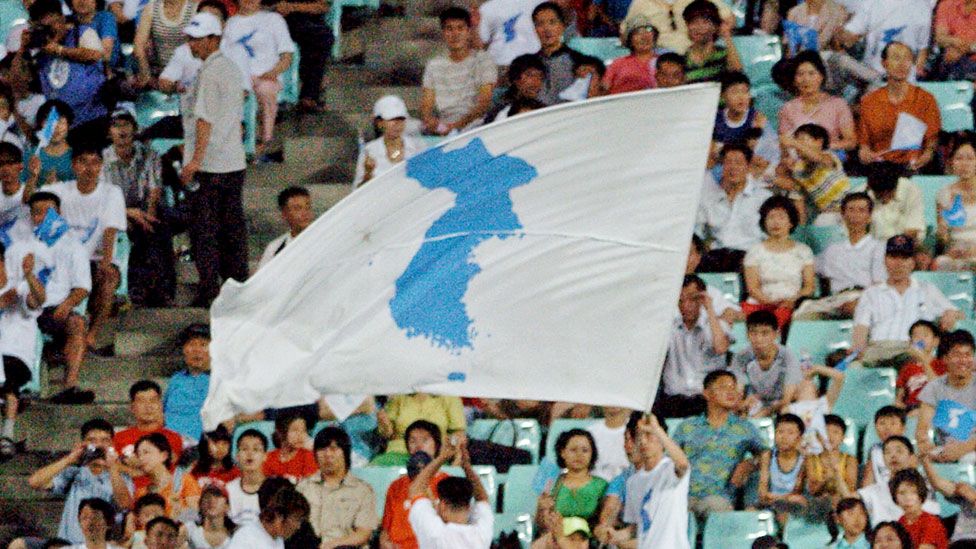 North and South Korea have agreed to march together under a single "unified Korea" flag at next month's Winter Olympics in the South.
They also agreed to field a joint women's ice hockey team in rare talks at the truce village of Panmunjom.
These are the first high-level talks between the countries in more than two years.
It marks a thaw in relations that began in the new year when North Korea offered to send a team to the games.
The games will take place between 9 and 25 February in Pyeongchang in South Korea.
If the plans are realised, a hundreds-strong North Korean delegation - including 230 cheerleaders, 140 orchestral musicians and 30 taekwondo athletes - could cross into the South via the land border to attend the Winter Olympics.
It will mean the opening of the cross border road for the first time in almost two years.
The two countries have also agreed to field a joint team for the sport of women's ice hockey. It would be the first time athletes from both Koreas have competed together in the same team at an Olympic Games.
The North has also agreed to send a smaller, 150-member delegation to the Paralympics in March.
The agreement will have to be approved by the International Olympic Committee (IOC) meeting in Lausanne, Switzerland, on Saturday, because North Korea has missed registration deadlines or failed to qualify.
South Korea will also need to find ways to host the North Korean delegation without violating UN Security Council sanctions outlawing cash transfers to Pyongyang and blacklisting certain senior North officials.
What has the reaction been?
South Korea's hockey coach and conservative newspapers have expressed concern about the prospect of a united hockey team, saying it could damage South Korea's chances of winning a medal.
Tens of thousands of people are said to have signed online petitions urging President Moon Jae-in to scrap the plan.
But the liberal leader told South Korean Olympic athletes on Wednesday that the North's participation in the Games would help improve inter-Korean relations.
Japan has viewed the latest detente with suspicion, with Foreign Minister Taro Kono saying the world should not be blinded by Pyongyang's recent "charm offensive".
"It is not the time to ease pressure or to reward North Korea," Mr Kono said, according to Reuters news agency. "The fact that North Korea is engaging in dialogue could be interpreted as proof that the sanctions are working."
Analysis by Jonathan Marcus, BBC Defence and Diplomatic Correspondent
The Olympic embrace between North and South Korea represents a rare moment of hope in a crisis that at times has appeared to be steadily moving towards another war on the Korean peninsula.
But is this a brief respite from the bluster and war-like words exchanged between Pyongyang and President Donald Trump, Seoul's main ally? Or does it really offer a platform for a diplomatic route out of this crisis?
The enormity of an armed conflict is clear to all - even President Trump. However, the Olympic detente does not alter the realities of North Korea's nuclear and ballistic missile programmes.
Both programmes need more testing to demonstrate a true inter-continental capability. And with Mr Trump insisting that this is a capability that the North will not be allowed to obtain, it is hard to see this developing into a Korean spring, let alone a definitive resolution of the nuclear dispute.
How did the agreement come about?
The talks which resulted in this agreement came after tensions on the Korean peninsula reached their highest point in decades.
This is because North Korea has made rapid advances in its nuclear and conventional weapons programmes in recent years.
Its latest ballistic missile test, on 28 November, sparked a series of fresh sanctions from the UN targeting petrol shipments and travel.
Soon afterwards North Korean leader Kim Jong-un said he was "open to dialogue".
In a New Year speech, he said he was considering sending a team to the Winter Olympics. South Korea's Olympics chief had said last year that the North's athletes would be welcome.
Then, on 9 January, the two countries made the breakthrough announcement that the North would be sending a delegation.
It was also agreed that a military hotline between the nations, suspended for nearly two years, would be reinstated.
President Moon Jae-in has said the Olympic agreement could pave the way for the nuclear issue to be addressed and lead to dialogue between the North and the US, according to Yonhap news agency in Seoul.