Indonesia: Transgender women in Aceh detained by police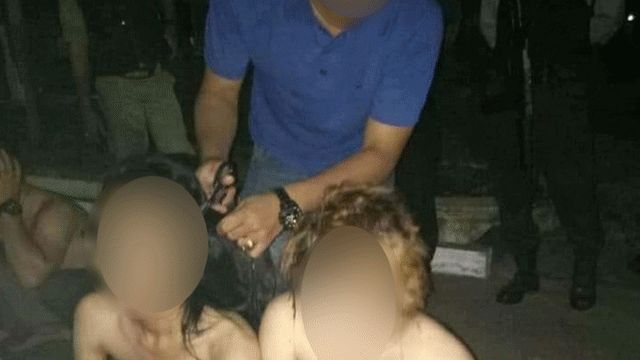 Police in Indonesia have detained 12 transgender women, cutting their long hair and saying they were "coaching" them to behave like "real men".
Several beauty salons in Aceh province were raided over the weekend and transgender women working there taken to the local police station.
The transgender women, who were also forced to wear men's clothes, will be held for three days.
Aceh is the only province in Indonesia that has strict Islamic religious law.
The move has been condemned by human rights groups.
Transgender women are known locally as waria, a word that combines the Indonesian words for men and women.
Local Police Chief Ahmad Untung Surianata told the BBC: "We are holding them for three days to give them counselling and coaching. It's going well and now they are all acting like real men."
While on the phone to the BBC, he yelled at the transgender women: "Are you still waria now?"
They replied quietly, sounding clearly under pressure, that they were not.
He said his team had carried out the raid, dubbed "Operation Anti Moral Illness", after neighbours complained about the "negative influence" the transgender community could have on their children.
The Indonesian National Commission of Human Rights has condemned the raids, saying the police acted outside the law and their actions were inhuman.
"All citizens deserve protection and to be treated equally," Commissioner Beka Ulung Hapsara told the BBC.
"After seeing photos of the raid and the information we have received so far about the raid, it's clear that they violated the police code of conduct. The job of the police should be to protect people, particularly the vulnerable."
Aceh was granted special rights to introduce its own stricter Islamic laws more than a decade ago, and has become increasingly conservative in recent years.
While it is not against Sharia in Aceh to be transgender, gay sex is illegal, and last year two men became the first couple to be publicly caned for the act.
Indonesia as a whole has a long and vibrant transgender culture and tradition, which has historically broadly been met with tolerance from the public, BBC Indonesian editor Rebecca Henschke reports.
In some parts of the archipelago, waria are revered as divine people.
But in recent years there has been rising anti-LGBT (lesbian, gay, bisexual and transgender) sentiment across the country, with a wave of hatred directed towards the community from religious leaders and some of the country's leading politicians.
Even in the capital Jakarta - once a relatively safe space - police have carried out a series of raids on bars popular with the LGBT community, and jailed gay men caught in them under the country's controversial pornography laws.