Malaysia defends 'hideous' tourism logo despite criticism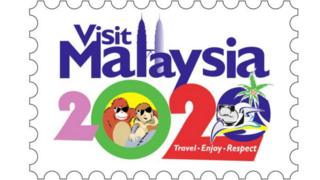 A Malaysia Tourism logo featuring a grinning orangutan and a turtle in sunglasses has been branded "hideous", and sparked calls for it to be ditched.
The new logo, with its tagline "Travel. Enjoy. Respect", has come under fire on social media with people criticising the uneven font sizes and retro-looking illustrations.
But according to the tourism minister, the multicoloured logo is here to stay.
Nazri Aziz said the logo was designed by the ministry's in-house team and that he trusted their designs, adding that criticism "is normal".
"I can't be putting a serious logo. This is tourism and it's supposed to be fun," he told news outlet the New Straits Times.
But some Malaysians were not amused.
Almost 8,000 people have signed an online petition calling for it to be dropped by the tourism board.
"I am no designer, but there are so many things wrong with this logo. [There are] font of different sizes, the overall colour scheme is incoherent and the pictures are so very 1980," said Napee Nasir on Facebook.
"Somebody should be held responsible for this hideous design," said Hadi Salleh. "[It's] a disgrace to our nation."
While others came up with alternative design suggestions.
Mr Nazri unveiled the logo at a travel forum in Thailand last Friday.
He later said it was made up of things closely associated with Malaysia.
"We retained the Petronas Twin Towers as it is the most photographed tourism product in Malaysia," he told local news outlet The Star.
"[The animals] are symbolic to Malaysia. If we do not include those animals in our logo, other countries will claim them," he said.
He said the orangutan and proboscis monkey were wearing sunglasses to show Malaysia was a sunny country.
The 2020 tagline draws from the World Tourism Organisation's "Travel. Enjoy. Respect" campaign that was launched in August 2017, which called for tourists to respect the "nature and the culture" of the country they were visiting.
The Malaysian travel campaign hopes to draw in 36 million tourists to the Southeast Asian country by 2020.