Thai tycoon charged over poaching in protected sanctuary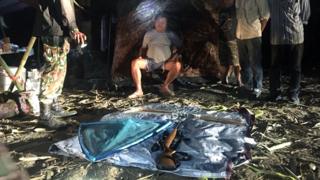 The head of one of Thailand's largest construction firms has been charged for allegedly poaching in a protected wildlife sanctuary, police say.
Authorities released photos of Premchai Karnasuta with hunting gear and animal carcasses, including a black panther.
Park rangers arrested three other suspects and seized three rifles, 143 bullets and other hunting tools at Thungyai Naresuan national park.
Local wildlife groups have praised the authorities for detaining the four men.
Mr Karnasuta, 63, is head of Italian-Thai Development, a Bangkok-based firm that helped build the capital's Suvarnabhumi airport and elevated Skytrain.
The construction magnate and his three companions, believed to be Italian-Thai employees according to local media, were granted bail on Tuesday after two days in detention.
They face charges of "illegal hunting, [and] illegal possession of carcasses of protected animals", Agence France-Presse reports, quoting the national parks department.
The slain animals - a black panther, a Kalij pheasant and a barking deer - are all protected species under Thai conservation law.
The wildlife sanctuary in western Thailand is home to wild elephants, tigers and many endangered species, according to Thailand's Wildlife Friends Foundation.
Following news of the construction boss's arrest, shares in Italian-Thai Development dropped 3.63%, according to Nikkei Asian Review.
Mr Karnasuta, who is the son of the company's co-founder, is the biggest shareholder with a stake of roughly 15%.
Italian-Thai Development did not immediately respond to media requests for comment.