Taiwan earthquake: Series of powerful aftershocks hit Hualien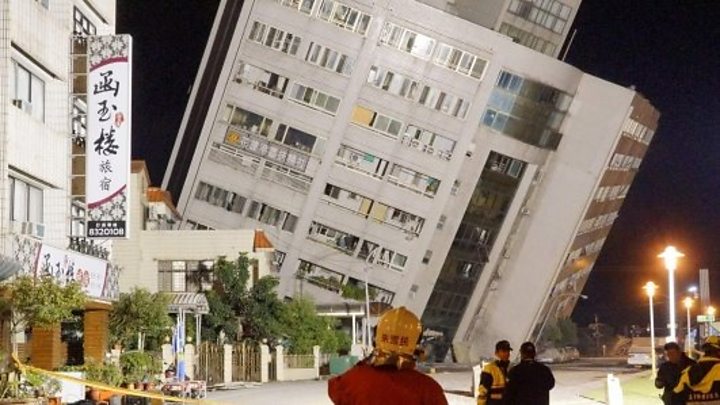 Aftershocks continue to rattle Taiwan after a strong earthquake killed at least seven people and injured more than 250 others on Tuesday night.
A 5.7-magnitude tremor was felt late on Wednesday, in the same area where the 6.4-magnitude quake struck on the country's east coast.
Some 67 people are still unaccounted for after a number of buildings across the city of Hualien were badly damaged.
Hualien, a popular tourist hub, is home to about 100,000 people.
Images from the city showed tilted structures, scattered debris and extensive damage to roads.
Dozens of the missing are thought to be in a residential building that is leaning dramatically to one side.
Engineers have attempted to secure it using concrete blocks and steel, but efforts have been complicated by ongoing tremors and rainfall.
Rescues at the apartment block were at one stage temporarily suspended for safety reasons, but emergency responders and soldiers continued to work into the night on Wednesday.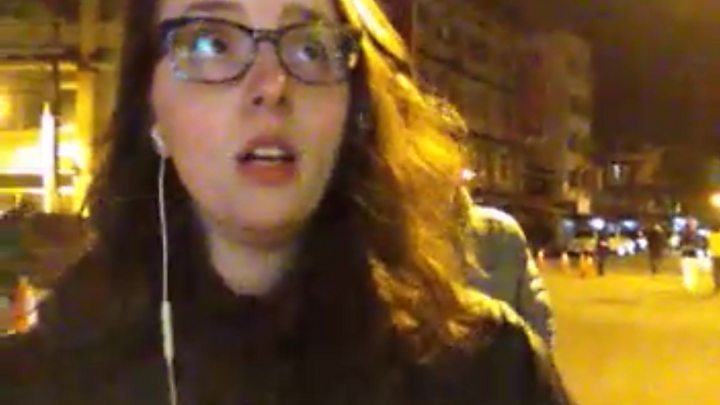 An 80-year-old resident of the building told the AFP news agency that he was asleep in his flat on the top floor when Tuesday's earthquake struck.
"My bed turned completely vertical. I was sleeping and suddenly I was standing," Chen Chih-wei said.
At least two people died in the city's Marshal Hotel when the building's bottom floors collapsed. Authorities said on Wednesday they believed no one else was left inside.
Residents of Hualien have been told to stay away from their damaged homes, and hundreds have taken shelter in community buildings because of the aftershocks.
President Tsai Ing-wen was at the scene of the quake on Wednesday morning, where she visited hospitals and relief centres.
In a statement, Ms Tsai said that the government would help Hualien to the best of its abilities, adding that she hoped "people's lives would return to normal as soon as possible".
Pope Francis also expressed solidarity with the victims in a statement released by the Vatican.
---
'I wanted to hide under a bed'
by Cheng Chunglan, BBC Chinese, Hualien
Earthquakes are not uncommon for residents in Hualien but the 6.4-magnitude quake, one of the strongest in recent years, came as a shock.
According to witnesses, residents were running out of buildings crying and screaming when the earthquake shook the city.
"It is the first time in my life [where I felt like] I wanted to hide under a bed," said 32-year-old Ms Chieh. "Later, my entire family and all my neighbours ran out onto the street."
She added that she felt very scared and found it "unbelievable" that the hotel building near her home was so seriously damaged.
---
People reported feeling Tuesday's quake in the island's capital, Taipei, more than 160km (100 miles) away.
The earthquake happened exactly two years after a previous quake in the Taiwanese city of Tainan that killed at least 116 people.
Taiwan has been rocked by more than 100 earthquakes so far this month, according to the government. The island sits near a junction of two tectonic plates and is regularly hit by earthquakes.
Taiwan has for all practical purposes been independent since 1950, but China regards it as a rebel region that must be reunited with the mainland.
---
Are you in the area? Did you witness what happened? If it's safe to do so, you can share your experience by emailing haveyoursay@bbc.co.uk.
Please include a contact number if you are willing to speak to a BBC journalist. You can also contact us in the following ways: